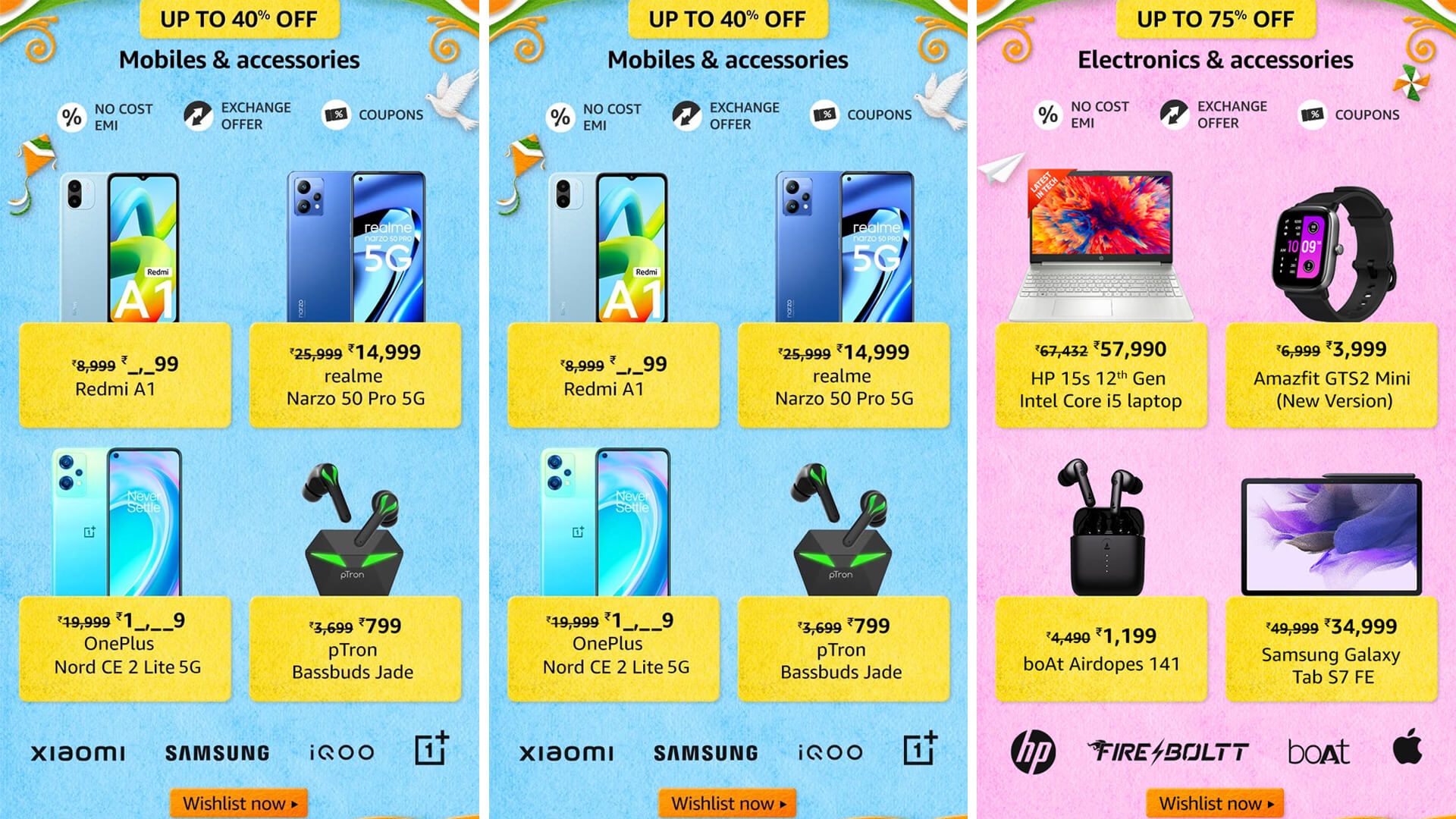 (Last Updated On: September 18, 2023 11:47)
Amazon is prepared to deliver any kind of product in a variety of categories for the new year of 2023, including mobile and electronics, clothing, cosmetics, home appliances, laptops, furniture, books, toys, and other items for children. You will receive everything from Amazon during this first sale of 2023.
Wait until you've read this article if you're looking to buy anything online, especially on Amazon because we'll tell you about the discounts, deals, coupons, offers, and the best category that provides excellent discounts and offers, as well as product hacks that will inform you about this sale and make it simple for you to take advantage of the Amazon Sale.
As you are aware, the sale will begin on January 16 for Prime members and end on January 20 for everyone else (17th Jan to 20th Jan 2023 for non-prime). Let's look at the best discount category that offered significant savings and deals below.
Headphones: A discount of up to 75% is available on a variety of items that fall under the headphone category, including wired headphones and earphones, wireless neckbands and headphones, TWS, Gaming headphones, Gaming wireless earphones, and many more.
Smartwatches: Another category of watches that includes a variety of watch styles, including fitness bands, Bluetooth calling watches, and many more, includes smartwatches. These watches will be discounted by up to 75%.
Storage device: Storage device is another popular category that comes with up to 70% discount.
Mobile and Accessories: One of the best and most popular categories is "Mobile and Accessories," where you can purchase the majority of phones as well as their accessories, including covers, guards, cables, stands, and many more, at discounts of up to 40%.
TV and Appliances: You can purchase any type of TV or appliance at a discount of up to 65% when you shop for TVs and appliances.
Refrigerator: You can get discounts of up to 55% on a variety of low- to high-quality refrigerators under the larger category of refrigerators.
Washing machines: Washing machines fall into a broad category as well, and you can save up to 50% on the best models.
Amazon Brand Products: On Amazon brand products, you can receive discounts of up to 70%. Amazon-branded products are available in many other categories, including accessories, electronics, and home and kitchen.
Voice Assistance and smart devices: Alexa, Fire TV, and Kindle are available up to 45% off (Fire TV up to 45% off)
Groceries: On Amazon, you can purchase food items at discounts of up to 50%.
Medicines: The medicine category is another important product, and if you want to purchase medicine online, you can do so at discounts of up to 30%.
Kids and Baby products: Kids and baby products also will be available at discounts.
Laptops, Monitors, Washing machines, air fryers, trolley bags, audio brands, Bags, fans, ovens, Wearable, water purifiers, and many other categories have great discounts on amazon while Great Republic Day Sale.
PRO TIPS:
You can purchase a mobile at a significant discount in addition to these categories thanks to this sale, which is run by MI. As a result, you will be able to purchase all MI smartphones and accessories at steep discounts. If you're looking to purchase a mobile device, MI brands have affordable smartphones.