(Last Updated On: September 30, 2023 22:36)
Now laptops are just like smartphones because laptops are used daily for work, study, office tasks, and even gaming. This is the festival month, and currently, Amazon is offering these laptops at a significant discount and an additional bank discount. So, we've picked out some laptop deals during the Amazon Great Indian Festival.
Here is the list of laptops revealed by Amazon that will be offered during the Great Indian Festival sale: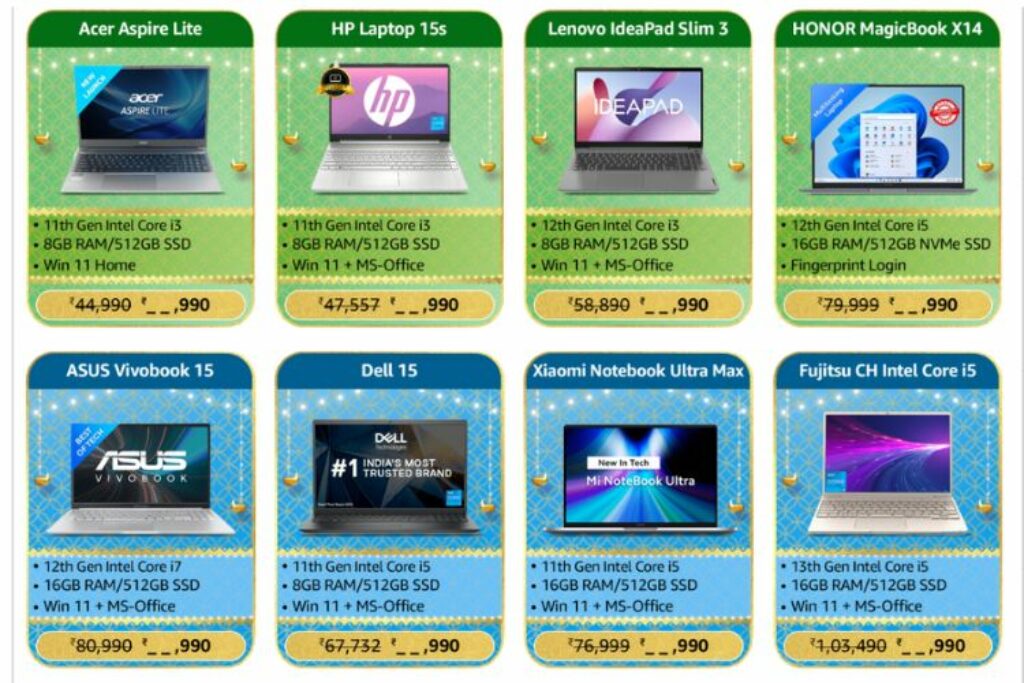 Acer Aspire Lite 11th Gen Intel Core i3
It features an 8GB RAM and a 512GB SSD, making it suitable for daily use. It comes with an Intel Core i3 11th-gen processor and a 15.6-inch FHD display. The price is also very affordable.
Loaded with dual speakers and a 15.6-inch display, this laptop is ideal for watching videos and movies. It also comes with 8GB DDR4 RAM, 512GB storage, and an Intel Core i3 11th-gen processor. It mainly offers fast charging.
Lenovo IdeaPad Slim 3 Intel Core i3 12th Gen
This thin and light laptop is great for portability. It comes with Windows 11, an i3 12th-gen processor, and supports RAM upgrades up to 16GB. Additionally, it offers an HD 720p large display with Dolby Audio for an improved sound experience.
HONOR [SmartChoice] MagicBook X14 (2023)
Loaded with 16GB RAM and 512GB storage, along with a 12th Gen Intel Core i5-12450H for multitasking. It features a backlit keyboard and fingerprint sensor for a better user experience and comes in a compact size with a 14-inch display.
, Intel Core i7-12650HThis performance-based laptop, the ASUS Vivobook 15, is designed for handling heavy workloads and multitasking with its Intel Core i7-12650H, 16GB RAM, and 512GB storage with Integrated Intel UHD Graphics. It also offers the latest Wi-Fi 6 and Bluetooth 5.3 for optimum connectivity.
Dell impresses with its quality and a 15.6-inch display, 8GB RAM, and 512GB storage. It comes with multiple port options, including a CD-R drive. The backlit keyboard and fingerprint reader enhance the laptop's security.
Also Check: Headphones Deal on Amazon Great Indian Festivel 2023
ASUS [SmartChoice] Vivobook 16X (2022)
For those looking for an AMD Ryzen 5 5600H laptop, the ASUS [SmartChoice] Vivobook 16X (2022) Thin Laptop is a good choice for AMD enthusiasts. The laptop features a full-size 16.0-inch display and operates on Windows 11 OS.
Please note that these laptop prices may vary, so be sure to check on Amazon.in for the most up-to-date pricing information.
You can wishlist these laptops because they will be available for upcoming sale on 8th October during the Amazon Great Indian Festival Sale.