(Last Updated On: September 18, 2023 23:10)
If you are a sophisticated individual who is serious about your work and career, such as an artist, designer, teacher, or student. You no longer need to use paper and pens. A graphic tablet, also known as a drawing tablet, is a type of hardware input device used primarily by digital artists, though many non-artists also use it.
---
Graphics Tablet with Advantages and Disadvantages
| Advantage | Disadvantage |
| --- | --- |
| Drawing Motion | The Cost |
| Connect to Your Computer | Awkward Positioning |
| Different Sized Tablets | Security when carrying it |
| Boost Productivity and Efficiency | Battery Backup |
| Well-Designed Surface | |
| Great Sensitivity | |
| Compatibility and Support | |
| Software Compatible | |
| Studies | |
Graphic Tablet with Advantages and Disadvantages
The Benefits of Graphics Tablet or Advantage
A graphic tablet is characterized by a tough, plastic illustration surface that is touch-sensitive and transfers pen or stylus motion to a display. Graphic tablets can be used instead of mice. Using a graphic tablet is as simple as using a pen, pencil, or airbrush, and they are being used in an increasing number of industries. Graphic tablets are also used by industrial designers, architects, and engineers because the digital pen feels more natural to hold and use. As a result, they can design more freely and quickly.
A natural and fluid drawing motion
Thanks to this super smooth and enhanced motion technology, we have the best layout with a variety of features that allow us to create professional and awesome art.
A drawing/graphic tablet, by utilizing the motion used while sketching or drawing, can produce significantly smoother curves as well as create small, complicated shapes with greater ease than a mouse. There are hundreds of models of editing software and image-making software designed specifically for professionals, and a drawing tablet supports almost all of them.
Connect to Your Computer With Ease
To connect it to your phone and computer, you can use a variety of software and applications that allow you to easily edit, create, and draw beautiful arts in any industry or field. Graphic tablets can be used in place of mice and do not require any software to work or function. This drawing tablet has a USB port as well as a wireless (Wi-Fi) connection. When you use graphics software like Adobe Photoshop, you can get the most out of your device.
Different sized tablets for different uses
You may be a student, a teacher, a working professional, or an industrialist; you will have access to various sizes of pen tablets that allow you to draw or create anything you want on your peripheral computer.
Of course, large-size tablets are more expensive, but as previously stated, graphic tablets come in a variety of sizes, and if you are an expert illustrator, a professional graphic artist, etc., you will need a large surface.
Graphic tablet Boost Productivity and Efficiency
Using a drawing tablet could be a main or one of the best features that you will get. This boosts your effectiveness and competitiveness, especially if you're working in a creative app like Photoshop, Illustrator, or Adobe InDesign.
Compact and well-designed surface
You can carry a tablet in your hand or while traveling from one location to another. These tablets are small and come in two sizes: short and large. It is possible to keep your stylus with this tablet, as the battery-free stylus is portable.
Great Sensitivity
These graphic or pen tablets have a high level of pressure sensitivity. It has exceptional brush control. You can make changes to fit the style of your job or work. You don't have to exert any effort when drawing because these are so smooth and come with features that can be used as a work job.
The pen for drawing tablets frequently makes use of pressure detection technology, depending on your drawing tablet and program.
As with a pencil, applying more pressure results in darker lines, while applying less pressure results in lighter lines.
Compatibility and support for a variety of operating systems
The majority of pen tablets are compatible with Android, Windows, Mac OS, and Linux. This also provides power to the pen, eliminating the need for batteries and cords.
Graphic tablet compatible software
There is some best and most common software that supports your mobile and laptop while using this device. This software is made to keep in mind this compact device.
Autodesk Sketchbook
Affinity Designer
Adobe Photoshop CC
Corel Painter 2019
Clip Studio Paint
ArtRage 5
Krita
Pixaki
Artweaver
ArtRage
Adobe Illustrator
Autodesk's AutoCAD
Make your child interested in his or her studies
The graphic pen tablet or drawing tablet is available in a variety of sizes, applications, and industries. There are many drawing tablets available, whether you are a teacher, a student, or a working professional. This divide could be a great gift item for your child if you want to get them interested in their studies or if they want to pursue their interest in painting. However, keep in mind that the price will vary depending on your requirements and features.
The Disadvantage of Graphic Tablets
If you want to own a graphic tablet there are some drawbacks also. The affordability, security, and some other factors could be a con for a particular person. Let's see what kind of cons are coming with a graphic tablet.
The Cost (Expensive)
If you are looking for a graphic tablet for your studio or if you are a student and want to purchase a full-featured tablet, depending on the make and model, it can be a significant investment. Even if the system itself is useful, this cost may be sufficient to deter investment.
Awkward Positioning
Light pens require some unusual positioning in order to be effective due to the interaction with the screen. Long hours of use can also cause wrist strain if you need to lean your pen for more precision.
Security
The tablet's size may be an issue when carrying it. It is extremely large, and it has been known to be broken as a result of an accident.
Battery Backup
The drawing pen tablet is available with or without a battery. Those that come with a battery have a tendency to drain the battery backup faster. When you connect it to your phone, it can sometimes drain your phone's battery.
What Is the Purpose of Graphic Tablets?
A teacher, a student or a work professional can use this graphic tablet for work efficiency.
Illustrators, Animators, Photographers & Graphic Designers
Teaching and live classes
Industrial Design, Architects & Engineers
Medical & Healthcare
EduBusiness & Officecation & Training
GIS Mapping & Control Systems
Child study
Memo and reminder (In house board)
Graphic Tablet with Display V/s without Display
Bottom Line
Pros
Cons
Spec
Graphic Designer
Graphic Tablet with Display
Bottom Line
Not Required Laptop or Smartphone
Pros
Use Solo
More Accuracy
Spec
Pen
Always in-Built Battery
Teacher, student, office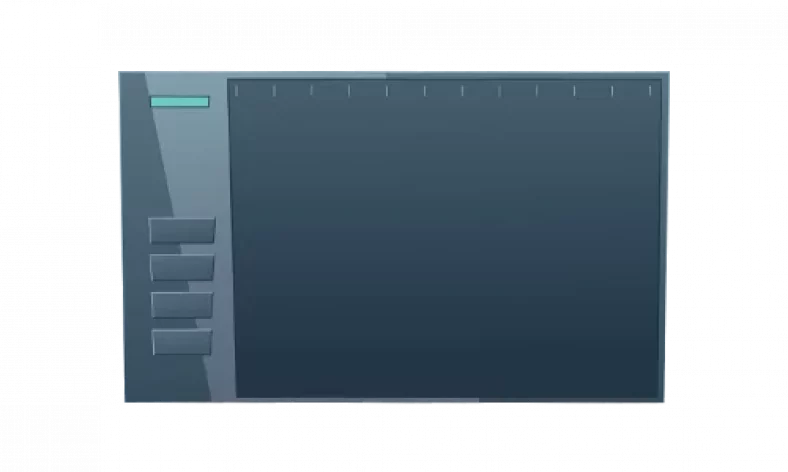 Graphic Tablet without Display
Bottom Line
Required Laptop or Smartphone
Pros
Can Not Use Solo
Less Accuracy
Cons
As Compared to Less Price
Spec
Pen
Battery (PowerSource USB)
Check the best option for graphics pen with tablets for drawing
Also See: