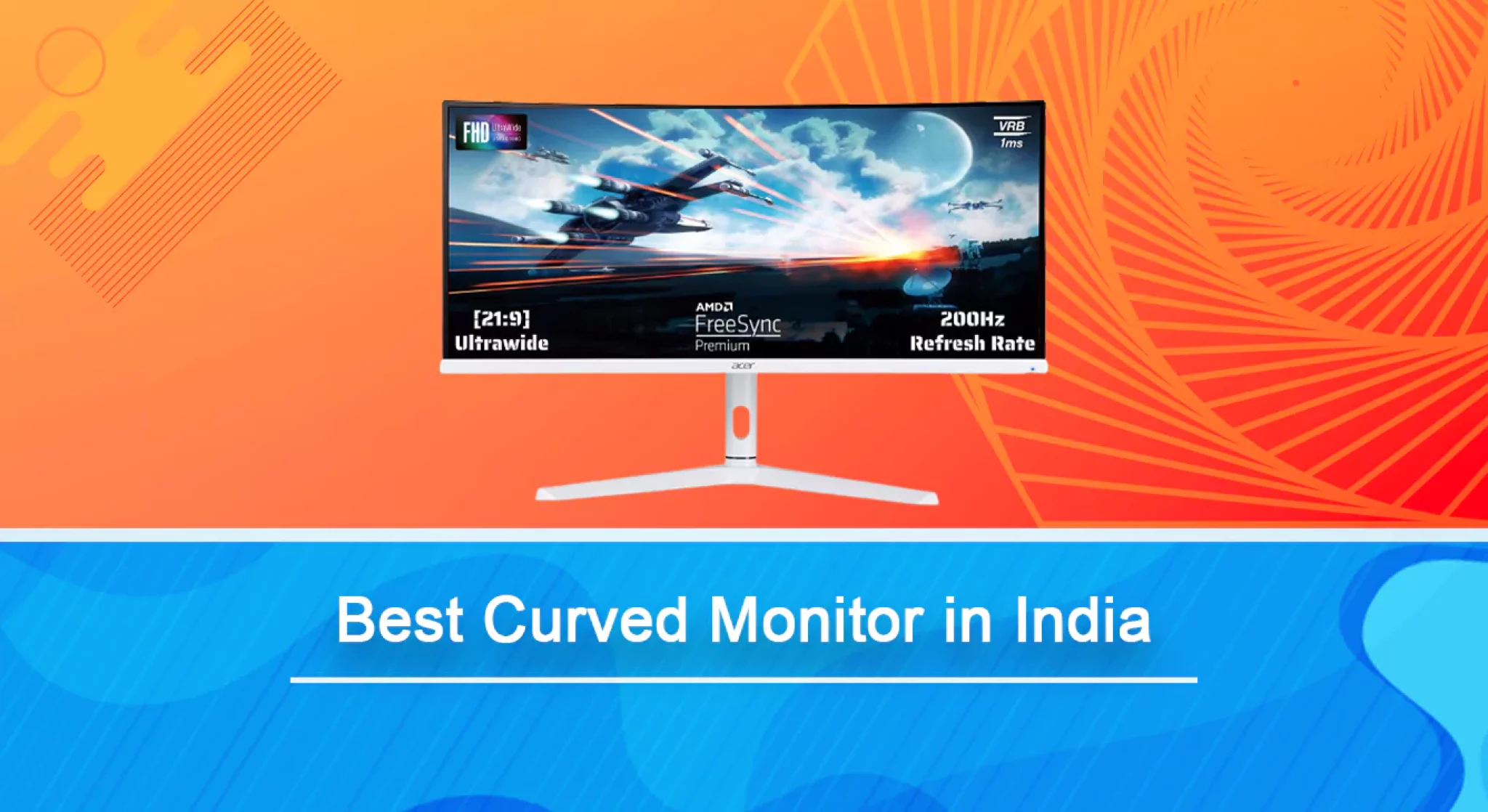 You're a gamer, graphic designer, or multitasker if you're looking for a curved monitor. Your ticket to more immersive work or play is a curved monitor. Although flat and regular monitors are still widely available, curved monitors are increasingly common for office work, design, eye strain reduction, and many other business applications. The demand for curved monitors, the new generation of displays, has significantly increased. A curved monitor is for a theatre-like experience, not just for watching TV.
The ability to see details and images on a large screen up close is a very big problem that can be solved by curved monitors. Because of how challenging it has become to maintain an accurate image across the entire screen when seated closely, curved monitors are growing in popularity. Curved TVs and monitors are thus one of the solutions. Even if you're seated close by, the image in the curve display doesn't change. A 1000R curve is more aggressive than a 1800R curve; not all monitor curvatures are the same.
Best Curved Monitor in India
| Curved Monitor | Feature | Price |
| --- | --- | --- |
| Acer XZ306CX | 29.5-inch, FHD LCD Monitor, 200 Hz | ₹21,990 |
| Samsung LC27F390FHWXXL | 27-inch, FHD VA Monitor, 60 Hz | ₹13,499 |
| AOC – C24G1 | 24-inch, FHD LED Monitor, 144 Hz | ₹13,499 |
| BenQ Ew3270U | 32-inch, 4K LCD Monitor, 60 Hz | ₹29,990 |
| GIGABYTE G32QC | 32-inch, FHD+ VA Monitor, 165 Hz | ₹27,900 |
| Dell S2721HGF | 27-inch, FHD VA Monitor, 144 Hz | ₹22,550 |
Best Curved Monitor in India with Price
Our experts have put together a list of the best-curved monitors that will work for all your tasks, including gaming, graphic design, entertainment, and home and office work. If you need help deciding between the best-curved monitor for work or the best-curved monitor for office work, The top-rated curve display monitor in India can be found below.
Key Factors You Should Buy A Curve Monitor
The new generation's screens are curved monitors. They give you a theatre-like experience, offer the best picture details and colors, and look much more polished and cool. So, here are four major reasons to buy a curve monitor.
Many of the details are hidden when viewing a large screen up close. As opposed to using a laptop or a flat screen, a curved monitor allows you to work with every angle and detail without switching tabs. You might be involved in data projection, trading, gaming, graphic design, or video editing. A more thorough viewing display will boost your productivity in that situation.
A curved monitor gives you a wider field of view for more immersive experiences when creating content, watching movies, or playing games. A curved monitor offers a more immersive experience for watching movies and playing games. The display panel's intricate sides bend to ensure that every viewing angle is ideal and prevent the colors from fading out at any angle.
Curved monitor avoids eye strain:
Numerous studies have found that flat screens are four times more blurry than curved monitors. Visual blurriness and distortion are more common on flat screens, especially at the borders. Therefore, a curved monitor is helpful in that regard. The curve lessens eye fatigue. When you use a curved monitor for the first time, your eyes may initially feel like they are working harder than they would when viewing a flat screen. Similar to getting new glasses, this is only a temporary effect.
Although curved monitors are relatively new, discerning users quickly replace flat monitors with curved ones. The VA panels, primarily used with curved monitors, are essential because they provide better screen adjustments. The more quickly pixels react or refresh, the more vivid the colors, the less distorted, and the clearer the image.
CRT and LCD monitors were also used in the past. In this new era, we now have curve monitors and even folding screens in some mobile phones, such as Samsung's and Samsung TVs.
Best curved monitor for gaming!
Acer XZ306CX 29.5 Inch Ultrawide 21:9 1500R Curve 2560 X 1080 LCD Monitor with LED Backlight
USP
The beautiful design of this 29.5-inch ultrawide curved monitor.
Ergonomically designed strong, robust stand that can Easily tilt (-5°-20° ), Swivel (±25°), and make Height adjustments ((0 ~ 120mm) at a moment's notice.
Best for gaming, art and graphic designing, and any heavy work.
Reason to buy
Acer's 29.5-inch curved monitor, which has a 200 Hz peak refresh rate, is a gaming monitor. Additionally, it features zero frame design technology, which maximizes screen visibility, eliminates screen tearing, and reduces lag and latency. The Acer Ultrawide Curve monitor has a 21:9 aspect ratio and a sturdy build quality for both screens and stands that last a very long time. It also comes with an ergonomic stand.
You also get a quick 1 ms response time with this Acer gaming curve monitor, ensuring ultra-smooth video playback and gaming output. The 200 Hz refresh rate and 1 MS VRB make your gameplay much smoother. Despite having an eye-safe filter and a 400-nit higher brightness, it won't cause eye strain. It will make your experience much more comfortable.
To prevent screen tearing and offer a remarkably fluid gaming experience, Radeon FreeSync synchronizes the framerate of your PC's graphics card with the monitor. In India, this FHD+ monitor is typically sold for less than Rs. 30,000.
Positive
Wide Immersion with a resolution of 2560 x 1080.
1ms of visual response boosting technology.
It comes with Radeon FreeSync.
Enjoy seamless, lag-free gaming with a rapid 200 Hz refresh rate.
Protect your eyes from unnecessary strain by utilizing Acer BlueLightShield and Flickerless technologies. 
Industry-standard specifies HDR quality.
Ergonomically-designed stand.
This has built-in Black Boost with 11 levels of dark level adjustments.
Negatives
Can't complains about this offering at this price range.
Note:
Acer has a variety of models for different usage and at different prices. All of the best Acer curved monitors are listed below. 
Samsung 27-inch FHD, 1800R Curved Monitor, VA Panel, Slim Design, AMD FreeSync, Flicker Free
USP
27-inch slim design 1800R Curved Monitor.
Best-selling curve monitor under Rs 15000.
3 Years Warranty on Product From Manufacturer.
Reason to buy
Samsung has a variety of curved monitors in a price range starting from 12000 to 1 lakh and more. This is yet another Samsung curved monitor on the list, even though it is priced at 13500 rs. The Samsung LC27F390FHWXXL 27-inch monitor has a good refresh rate of 60 Hz, which could be better, but you can play your gameplay so smoothly. Samsung's 27-inch gaming monitor is designed to fit every aspect of your need and on your desk. You can keep your eyes fixed on the entire screen, including the edges. Eye fatigue doesn't hinder you, not even during extended gaming or multimedia-watching sessions.
The Eye Saver Mode keeps the eyes relaxed and pleasant when playing video games for extended durations. Screen flicker is also continuously eliminated using flicker-free technology, allowing you to focus for longer periods with fewer interruptions or eye strain. Overall, it is the best-curved monitor at this price, with better picture quality.
Positive
Nicely designed.
Higher 3000:1 contrast ratio.
Eye-saver mode.
27-inch size, neither big nor small.
Best for gaming and entertainment use.
Negatives
Screen resolutions and refresh rates would have been higher.
Note:
if you want to buy Samsung's classic and premium class curved monitors, see the below list for different use and budget:
AOC – C24G1, 24 Inch 1920 X 1080 Pixels, Curved Gaming LED Monitor with VGA Port
USP
An affordable curved gaming monitor.
Higher 144 RR and 1MS response time make image editing and gaming smoother.
A sporty design.
Reason to buy
The full HD VA panel on the AOC C24G1 has a 1500R curvature and a sleek, nearly frameless design. It is simple to connect two or more monitors. This monitor has a small, compact design. Its best feature is the most affordable curved monitor on the list of the best-curved monitors for 2023.
For an amazing gaming experience, the monitor offers immersive clarity surrounded by 16.7 billion colors. The AOC is worth launching on a desk because it has numerous connectivity ports and reasonable adjustment options. The improved performance is ensured by AMD FreeSync technology.
Positive
Affordable Gaming Monitor.
Antie flicker technology.
Height and Swivel Adjustment.
Perfect size curved Display.
Best-selling curved monitor.
Negatives
Compromised quality of the stand.
BenQ Ew3270U 32-Inch LCD 3840 X 2160 Pixels 4K UHD Monitor
USP
4k UHD monitor in 32-inch size under 30000rs.
Inbuilt speaker.
Super excellent picture quality.
Reason to buy (32-INCH 4K MONITOR)
The 4K BenQ Ew3270U display has a 1800R curvature. The immersive viewing experience on this gorgeous 32-inch curved monitor is like nothing else. With this curved monitor, you can enjoy every task while playing demanding games or for leisure. You can enjoy the most exquisitely tailored gaming and entertainment experience with this 4K curved monitor. Its hyper-realistic video quality and HDR technology in a gaming monitor enable you to enjoy gaming performance with amazing details.
BenQ has created its monitor to provide the best possible viewing experience by showcasing the enormous screen size with breathtaking Curvature. It features ultra-high resolutions and a 21:9 cinematic aspect ratio. This monitor has all the connectivity options you could want, including a headphone jack and a VESA wall mount stand, making it one of the best displays under 30,000 rupees.
If you need a heavy monitor for heavy-duty gameplay, you may like its premium model; BenQ Mobiuz 34 InchWQHD Ultrawide 1900R Curved Gaming Monitor with IPS Display.
Positive
Bezel-Less design.
AMD Freesync for ultra gameplay.
2Wx2 inbuilt speakers.
GIGABYTE G32QC 32″ 165Hz 1440P Curved Gaming Monitor
USP
165Hz 1440P Curved Gaming Monitor.
FreeSync Premium Pro.
1500R Display.
Reason to buy THIS FHD CURVED MONITOR
This Gigabyte 32-inch 4K monitor makes working and playing games much easier and smoother. It has a 165Hz refresh rate, a 1440P resolution, and a 1ms response time. Additionally, AMD FreeSync Premium Pro is included for fluid gameplay.
Small bezels and an ergonomic stand with tilt and height adjustments are features of the Gigabyte VA Panel 1500R Display. It has a low price of under 30,000 rupees and is a popular 4K monitor with high online star ratings.
Positive
Best picture quality.
Native 1500R Curvature.
VESA display HDR400 and 94% DCI-P3.
GIGABYTE Auto-Update.
Ergonomic design with tilt and height adjustments.
Negatives
Build quality is compromised of the screw and stand.
Dell 27″ inch FHD Curved(1500R) Gaming Monitor with a VA-Panel and NVIDIA G-SYNC
USP
Bezel-less design.
Higher contrast ratio of 3000:1.
NVIDIA® G-Sync for smoother gaming.
Reason to buy GAMING MONITOR
A well-known company in India that produces high-end monitors, ranging in price from entry-level to premium, is Dell. With In-Plane Switching (IPS) technology, this Dell 27-inch gaming monitor offers astounding speed and color performance from every angle. Its lightning-fast native refresh rate of 165 Hz lets you see moving images with incredible clarity, so you can react faster. A lightning-fast true 1 ms GtG response time that eliminates motion blur allows you to experience fluid performance during fast-paced action. By removing screen tearing and stuttering, NVIDIA G-SYNC Technology and AMD FreeSync Premium Pro Technology add another layer to seamless, low-latency HDR gaming.
Every gaming experience features vibrant colors and incredible depth, all in stunning QHD (2560×1440) resolution, with 98% DCI-P3 color coverage and 1.07 billion colors. The VESA DisplayHDR 400-certified Dell 27 Gaming Monitor lets you see more color and detail than a standard dynamic range (SDR) display. It also has great clarity and high contrast, making the images look real.
This screen's ultra-thin bezel offers a generous playing area. The new joystick and shortcut buttons are on the back of the monitor, making it easy to navigate and manage the OSD menus. Additional personalization choices are provided by three user-defined profiles. You can control everything with the timer, FPS counter, and dark stabilizer, including frame rates, brightness, and shadow control. Direct current brightness control makes a flicker-free screen possible, providing a more relaxing viewing experience. Additionally, it has a variety of connectivity options, including an AC power port, a security lock slot, two HDMI 2.0 ports, a DP 1.4 port, an audio line-out port, two USB 3.0 downstream ports, an audio headphone port, a USB 3.0 downstream port, and a stand.
Positive
One of the best-selling gaming monitors.
Nicely designed.
Multiple connectivity options.
A convenient and faster gaming setup.
Note:
You may like this MSI curved gaming monitor, priced at a very aggressive range. 
MSI Optix G27C4 cm (27″) Full HD
 monitor with 1ms (MPRT) 165 Hz HDMI, DisplayPort AMD FreeSync Curved Gaming Monitor.
Conclusion
After analyzing them, we have covered the top curved monitors in this post on the best-curved monitors. If your line of work necessitates curved screens, you have many options, including graphic design, video editing, and gaming. The Samsung and Dell curved monitors will unquestionably be a good choice if you're a working professional and want the best value for your money product for your workstation. Similarly, we have listed the top monitors for your needs if you have a gaming rig that is a powerhouse and want the best gaming experience possible from your Display. Overall, the monitors mentioned above are the best in their class and provide the best value for money.
FAQ – Best Curved Monitors!
Which curved monitor is best?
It depends on the particular demand and usage. Still, Samsung, Dell, Acer, and BenQ are the best for gaming and other tasks like running complex software. You can purchase a Samsung curved monitor in any price range for the best overall performance. 
Which monitor is best for gaming, curved or flat?
Curved monitors are undoubtedly the best for gaming. As you know, the Curve monitor has the best picture quality, so they are the winners. Curved monitors are far superior to flat monitors in terms of picture quality. Because the monitors' Curvature makes it possible for our eyes to take in everything at once without getting tired.
What is the best-curved monitor?
The best-curved monitors in India are made by Samsung, LG, BenQ, MSI, Alienware, and Dell, among others. These brands are available in a range of price ranges, from budget-friendly to luxurious.
Are curved monitors actually better?
Viewing on a curved monitor with a larger and better curvature is more comfortable and causes less eye strain. They don't cause pain while working long hours because you don't have to move your neck like you would with a flat monitor. And yes, curved monitors are better for eye strain and comfort.
What is the best size for a curved monitor?
A curved monitor should be at least 28 to 30 inches and preferably larger. In a cured monitor, greater is preferable. The best-curved monitors tend to be the ones that are the widest because they allow for plenty of space for multiple windows and apps to be displayed at once, which is necessary to fully appreciate the advantages of a curved monitor.
Are curved monitors better for your eyes?
Yes, the only monitors that are good for your eyes are those that are curved. Get a curved monitor if you want one that won't cause eye strain or discomfort. No matter the industry, they can help prevent repetitive stress injuries while boosting productivity.
Is there a 4k curved monitor?
Yes, BenQ and Samsung both have 4K monitors.
We are sorry that this post was not useful for you!
Let us improve this post!
Tell us how we can improve this post?