If you're looking for a gaming mouse for less than Rs1,000, don't worry; our experts have compiled a list of the best Gaming Mouse for Rs 1k with the best response and durability.
As experts, we prefer wireless mouse models for gaming because they are easy to use and eliminate the need for wires. However, wireless mice are more expensive than wired mice. If price is an issue, you can buy the best-wired mouse, and we will recommend some best pieces for the mouse.
---
What you can expect
With the gaming mouse, you can achieve the fastest FPS and lowest response time. And the gaming mouse offers an extra button for extra control during your gaming session without touching the keyboard. And hence, it improves your gaming performance.
A gaming mouse can give you the ability to achieve minimal latency for a response, and it has an extra button for providing a quick reaction and a drag click for multiple clicks in a single click, which is a handy function in gaming (extra clicks)
If you choose the wireless mouse in this range, the mouse comes with a lower DPI (1000 to 2500), which is unsuitable for gaming.
Or with wired, there is 2000 to 13000 DPI available.
More DPI is better, and there is an option for sensitivity to choose according to your preferences.
---
Best Gaming Mouse Under 1000 in India 2023
Best Gaming Mouse Under 1000
---
So we show wired and wireless gaming mice under 1000 rupees in India 2023.
Redragon M612
Are you looking for an extra button-wired optical gaming mouse? This Redragon M612 Predator RGB is your choice because it has the maximum number of programmable buttons, which are all editable, and it is just under 1000 rupees in price.
With a standard design, it has a better rubber grip but is slightly heavy and has RGB light. It has 11 buttons, 9 of which are customizable, making it the gaming mouse with the most control buttons on our list.
It has an 8000 DPI with 5 levels of adjustable presets. Additionally, it offers 1 rapid-fire button, which is used during rush gaming, RGB light scrolling. The mouse has the capability of a profile switch feature, which is possible with Redragon software. This segment provides a value-for-money feature that is suitable for a gaming mouse.
The mouse's weight is 145 g, which may be a concern for you, but according to it, the feature is good and considerable.
Pros:
Good build quality
Best RGB Lighting
Cons:
Slightly More Weight
---
ZEBRONICS Cozy
If you are looking for a vertical mouse for a gaming mouse under 1000 rupees, this is the best choice because it comes with an accurate price tag of Rs 1000, and the mouse is based on a gaming design.
It is a vertical mouse designed for gaming, so it is uncomfortable for a long time for everyday use. It has a long 1.8 m braided cable; a rubber finish for better grip, which provides an extra advantage to this USB mouse.
Comparatively, it has a less DPI sensitivity of 3200 DPI, which provides 4 presets for dpi levels. This DPI is unsuitable for hard gaming and should only be used by casual gamers.
It has a 6-button control that is not customizable, and the weight of this mouse is a little bit more than the previous mouse, which is double the weight.
It has RGB lighting on the bottom of the mouse, but it is not customizable.
Pros:
Long braided cable
Cons:
Not for FPS gaming
---
Also, read about the best gaming headphones under 1500
HP G200
If you have a limited budget or need a good gaming mouse, you can prefer this mouse, which has the most extended warranty and a good DPI level.
It has a gaming look with RGB lighting that shows it is made for gaming. It also has an anti-slip scroll wheel to prevent accidental touching. However, the weight of this mouse is slightly heavier than others.
It comes with a 4000 DPI level controlled by the Avago gaming chip and provides precise accuracy within the 500–4000 DPI range. With 6 DPI levels, the accuracy of this mouse is good, but the DPI level is less.
The brand will claim it was tested with 20 million clicks, the highest click on our top gaming mouse list, with a 1000 Hz polling rate, which is the industry standard for the mouse.
It comes with 6 buttons that are programmable via the HP Mouse software.
Pros:
Storage Build Quality
Long warranty life
Cons:
153g weight
---
Ant Esports USB GM600
If you are looking for a gaming mouse with a high DPI and a minimal budget, you can select this Ant Esports USB GM600 RGB Wired gaming mouse with good DPI and RGB lighting for a gaming mouse experience.
The mouse design is simple and comfortable in our hands. It has 7 buttons, including 1 button for quick response that turns the game during the gaming session. Also, you can program all these buttons with the software. It performs well in this category if you need a more customizable button to choose the preview mouse.
Its operating range is up to 7200 DPI with 6 adjustable DPI level settings that are good and provide more value than others, so you can buy this mouse. Let's check it more deeply to decide it.
The RGB lighting touches every mouse corner and is compatible with its Ant Esports software, allowing you to adjust the light's color, brightness, and speed. And this is the only software that gives you this feature.
And it supports both Windows and Mac devices with its braided, 1.5-meter-long USB cable.
Pros:
Affordable Price
Cons:
Software for Windows (gaming driver)
---
Archer Tech Lab Recurve 300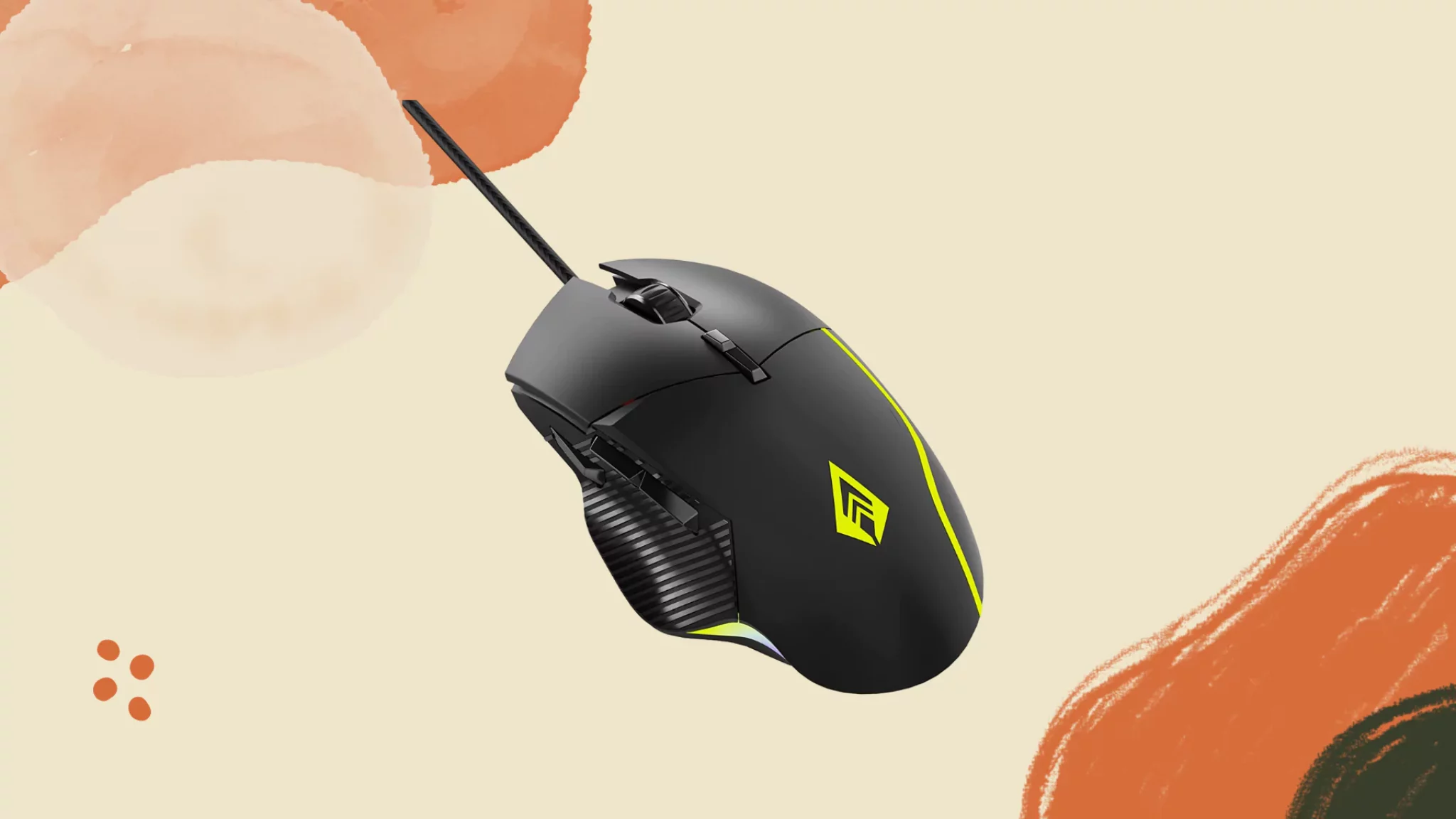 This is the highest DPI mouse available in our list of best gaming mice under 1000 rupees, with 899 prices. Because it is not from a famous brand, but the configuration is excellent in this range, we select this mouse in this list.
The build quality of the mouse is decent, which is why it is a lightweight mouse with RGB light that is customizable via its software, which is available on its official archertechlab website. In addition, it provides a thumb rest, which the other mouse does not offer.
It has 8 buttons. All the buttons are programable via the software, but the 2 buttons are only for DPI control. By the way, it has 12000 DPI levels, which is possible with a SUNPLUS 6662 gaming sensor with 6 different levels of DPI. The sensor works at a 1000 Hz polling rate, essential for the gaming mouse.
And you can connect this mouse to your Windows, Mac, and mobile devices (via an OTG cable).
---
Lenovo 530 Wireless Mouse
The Lenovo 530 Wireless Mouse is the best-selling wireless mouse for under 1000 rupees on Amazon. It provides a value-for-money wireless mouse that can be used for casual gaming.
The design of this wireless mouse is friendly to your hand, and the weight is 65 g without a cell. The good part is that you can choose from five options.
It has three buttons: left, right, and scroll. It cannot provide additional control.
It has a decent sensitivity of 1200 DPI, suitable for HD and full HD displays. It is good for those who need regular sensitivity wireless mice.
And the company claims it will work fine with up to 8 million clicks, and you can connect this wireless mouse with its USB dongle.
Pros:
AA battery is included in the box.
Cons:
Not suitable for a big hand.
---
Also, check out the best gaming headphones under 2000
Conclusion:
Redragon M612 is the best pick from our editor for Best Gaming Mouse Under 1000 and Archer Tech Lab Recurve 300 is for best DPI gaming mouse.
---
FAQ – Best Gaming Mouse Under 1000
Which is the best gaming mouse under 1000
Redragon M612 is the best pick for the best gaming mouse under 1000 in India 2023.
Which is the top 3 best gaming mouse under 1000
Redragon M612, Archer Tech Lab Recurve 300, and Ant Esports USB GM600 are the top 3 gaming mice under 1000.
Which is the best gaming mouse wired or wireless
The wired gaming mouse is the best option for a gaming mouse because of its latency.
We are sorry that this post was not useful for you!
Let us improve this post!
Tell us how we can improve this post?