Do you use tap water in your house, or do you receive hard water in your house, and are you looking for the best water heater for hard water? Great, here we will share about hard water and the best possible hard water geyser.
Many geysers and water heaters are available on the market, some of which we have written about, like the best electric water heater and the best solar water heater. But finding the geyser for hard water is crucial for anyone, and people don't know how to find the best water heater for hard water, so we are here to bring it out.
As you know, hard water can easily damage the geyser if it's not well equipped to handle the water condition. Especially the water tank and its inlets. Your water heater should have an anti-rust body and temperature control. Also, a few geysers offer automatic thermal cut-out and pressure-releasing safety valves to give you improved service and all the safety features, making them the best water heater for hard water.
So, live in a place with a supply of hard water from saltwater or borewell water. You should look for a geyser compatible with hard water. So that you can use your geyser for a long time without any problems.
---
Our Top 3 Recommendations
Best Pick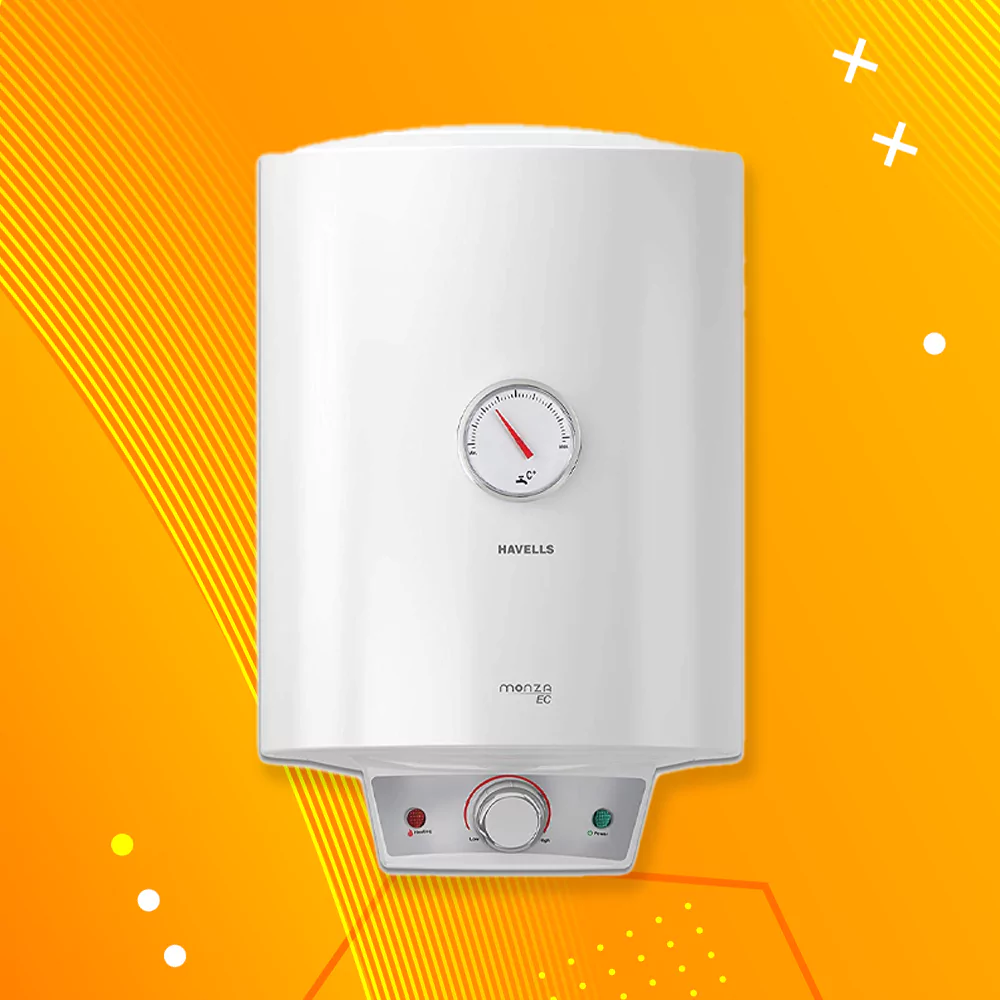 Havells Monza EC 5S 10-Litre Storage Water Heater with Flexi Pipe
Havells
Check Prices
BEST VALUE
Bajaj New Shakti Storage 15 Litre Vertical Water Heater
Bajaj
Check Prices
ENERGY-EFFICIENT
V-Guard Divino 5 Star Rated 6 Litre Storage Water, Heater
V-Guard
Check Prices
In this regard, we've provided the list of top-rated geysers for hard water available in India, along with a comprehensive buyer's guide. Our experts tested some of them and checked the customers' reviews and feedback, then compiled a list of India's best water heaters or geysers for hard water in 2023. You will get the buying guide
---
How to find the best water heater for hard water? How do you choose the best water heater for hard water?
Buying Guide to Choose the Most Efficient Geyser for Hard Water
If you are looking for a hard water geyser, you should consider some specific points before buying this.
Build Quality: Always examine which geyser has the best construction quality and material that is corrosion-free and anti-rust along the pipes and inlets before purchasing. Additionally, it must have the best anode rod, possibly because it performs better and is made of high-grade magnesium.
Heating Element Coating; The heating elements are the most efficient and significant portion of a geyser because they are a fundamental part and component. Because the heating elements heat the water in this fashion and come into direct contact with the hard water, the hard water causes the heating element to scale. To prevent this from happening and to extend the heater's lifespan, the heater should be completely covered in any glass material.
Anode Rod; Anode Rod has a lifespan of two times as long, works in various water conditions, and guards the tank and heating element against corrosion. Therefore, you must ensure that the geyser you choose has a sturdy rod. Magnesium, which is resistant to corrosion, was used to make the best anode.
Size; Size is also the main feature of a water geyser. Always prefer that which needs you and suits your needs.
Warranty; The most crucial element you must consider when shopping is the warranty. Because if you want a hard water geyser that will last for a long time, Then you should look into the heating element and tank warranties. That you can replace or repair something if necessary.
---
Summary of 6 Best Geyser for Hard Water
---
Let's find the best geyser for hard water!
Havells Monza EC 5S 10-Litre Storage Water Heater with Flexi Pipe
USP
Feroglas Tech has a single Weld Design made of ultra-thick superior steel.
Incoloy glass-coated heating element offers superior heating.
The tank has an anode rod with a stainless steel core that is designed to protect the tank from corrosive elements.
Reason to buy
Without a doubt, the Havells Monza is a powerful geyser for hard water. It includes a durable covering and anode rod that reduces maintenance and softens the water. Havells asserts that their developed swirl flow technology mixes heated and cold water equally, enabling water to heat up more quickly while using less electricity. As protection against rust, it features Feroglass technology, which protects against the effects of hard water. Because of its 8, extremely effective bar pressure level is best for any type of dwelling, including low and high-rise buildings. One of Havells' top geysers for hard water.
The heating element has an Incoloy glass coating that provides outstanding heating performance due to its excellent resistance to oxidation and carbonization at high-temperature settings and its resistance to corrosion under difficult and harsh water conditions.
Positive
Faster heating.
Anti-rust coating.
It can keep water hot for a long time.
Super efficient anode rode.
A compact and durable geyser for hard water.
It is equipped with an extra thick PUF insulation tank.
Comes with a leakage circuit breaker.
Adjustable knob for temperature settings between 25 degrees C and 75 degrees C.
Feroglas Tech with a single Weld Design.
Comes with all the safety majors.
7 years on an inner container, 4 years on the heating element, and a 2-year comprehensive warranty.
---
Bajaj New Shakti Storage 15 Litre Vertical Water Heater
USP
4-star energy-efficient water heater.
Comes with a Fire Retardant cable with 3 pin plug.
Glass Lined Coated Inner Tank.
Reason to buy
This geyser is ideal if you're searching for one that works well with hard water. Every essential safety feature is there and constructed with high-quality materials to last a long time. The most recognisable brand created by Bajaj is an Indian one called Bajaj. The Bajaj New Shakti 15L storage geyser is the most popular geyser for hard water. It comes in 4 storage capacities (10L, 15L, and 25L), which is great for any customer.
With titanium armour technology and a glass-lined coated inner tank, it offers additional protection against rust and corrosion and guarantees that it won't leak in any case. It has specialised "Swirl Flow" technology for quicker heating, which also helps conserve electricity. Additionally, a Fire Retardant cable with a 3-pin plug is included, eliminating the need to purchase it separately.
Positive
Great heated water retention with PUF insulation.
Fire Retardant cable with 3 pin plug.
Best for high-rise buildings also.
Durable steel tank with glass-lined coating.
Energy efficient.
Faster heating.
Special Protection Device attracts harmful salts and keeps the element and tank healthy and safe from corrosion.
Suitable for High Pressure and Pressure Pump Installations.
Negatives
The total installation cost is high with all the inlets.
---
V-Guard Divino 5 Star Rated 6 Litre Storage Water
USP
5-star super energy efficient water heater.
Sophisticated design.
Extra Thick and high-density CFC Free PUF Insulation ensures maximum heat retention.
Reason to buy
This is the water heater for you if you're looking for one that uses little energy and can handle hard water. It is a 5-star v guard water heater with high-density CFC-free PUF insulation. It guarantees quicker heating and conserves energy. Suppose you live in a coastal area and use tubewell, well, and tap water. In that case, this is the best pick for you because it comes with great inlet materials, and the inner and out body is rust-free and robust.
It contains four layers of safety, including an advanced thermostat and thermal cut-out mechanism for dual overheat protection and a 5-in-1 Multi-function Safety Valve that prevents excessive pressure build-up and vacuum formation and reverses water flow. It is constructed with higher-grade anti-corrosive materials. The interior tank is walled with thick glass to protect from hard water from all sides.
Along with these qualities, it also includes a digital display, which adds another function that makes it amazing and clever. It aids in controlling the geyser. You can track the temperature with the aid of its seven-segment digital display.
Positive
Beautiful design and durable build quality.
Comes with a digital display.
Best for high-rise buildings also with good bar pressure.
Leakage-proof tank and sturdy build quality.
---
Crompton Amica 15-L 5-Star Rated Storage Water Heater
USP
Capillary Thermostat, automatic thermal cut-out & multi-functional valve to provide higher safety.
Magnesium anode prevents corrosion due to hard water quality.
ISI marked nickel-coated special element to provide resistance against scale formation.
Reason to buy
The Crompton Amica 15 has a stylish, sophisticated design that appears portable and robust. With its 2000-watt high-quality copper heating element that increases the heat, this is suited for hard water conditions, so you will get faster heating. 3 sizes are available. 10 L is for small families, 15 L is for middle-sized families, and 25 L is for large families.
The tank is constructed with sturdy, high-quality materials that effectively extend its lifespan and enhance heat retention. The particular element with the ISI designation is nickel-coated and offers resistance to scale formation. It has a multi-functional valve, an automatic thermal cut-out, and a three-layered safety capillary thermostat for increased safety. It is supplied with a specifically constructed magnesium anode, which resists corrosion by hard water quality. It is provided with the most essential materials that are excellent against hard water.
Due to its 8-bar pressure, suitability for high-rise buildings, and overall performance, it is a favourite. This geyser is simple to use and includes small LED indicators that let you know when the water heater is ready to use. Even hard water can be heated with this unit because of its weld-less tank and ABS body.
Positive
Sophisticated design.
Comes in 3 sizes.
Comes with free installation and inlets.
Powerful heating element.
Best for high and low-rise buildings.
Multi-level safety.
Automatic cut-off that saves energy and also your pocket.
Corrosion protection
Scaling resistance elements
Free installation with pipes and inlets.
---
AO Smith HSE-VAS-X-025 Storage 25 Litre Vertical Water Heater
USP
Hard against the hard water.
Good looking vertical design.
Blue diamond glass technology.
Reason to buy
The US-based company AO Smith is well-known for its water heaters and other home equipment. It has a good vertical design, long-lasting anode rode, and a tank lined with blue diamond glass, all of which offer safety from corrosion and extremely quick heating.
Additionally, this geyser has numerous 15L and 25L capacity options. So, only if you have a large or medium-sized family should you select this. It has a heater entirely covered in glass to avoid scale formation on hard water. Because of this, it is effective enough for long-term operations. Due to the PUF technology, which is also available here and offers the best insulation to prevent heat loss from the tank, you do not need to restart the geyser very frequently.
The geyser is protected from thermal or electrical harm thanks to a thermal cut-out and a multi-function safety valve, which is the greatest feature. You can effortlessly maintain the temperature between the minimum and maximum, thanks to its temperature control knob.
Also, you can check with less capacity 15 and 25 liters.
Positive
Compact size and durable product.
Long-lasting anode rode.
Temperature control rode.
Comes with a multi-layer safety system.
Compatible with high-rise buildings.
---
Racold Eterno Pro 15Litres Vertical 5 Star Storage Water Heater
USP
Most stylish 5-star Geyser for hard water.
Titanium enamel coating provides extra safety.
Comes with a smart mix feature.
Reason to buy
With this chic Racold Eterno Pro, you may modify the regulator to meet your bathing needs. It has a corrosion-resistant tank to protect against harsh water. Customers are given extra protection, durability, and security thanks to its special titanium heat element.
It's an excellent choice for high-pressure pumps and high-rise apartments and homes because of its high-pressure resistance. This device is protected against corrosion by the particular anode used with the heating element in conjunction with the electrolytic process. It increases Geyser's effectiveness and lifespan.
It includes a special deflector that gradually mixes hot and cold water inside the tank. With this smart mix technology, you can save up to 10% on the cost of hot water. Because the water stays hot for a longer time, it decreases the number of restarts. You will save money on electricity bills and prevent energy waste by using this Geyser, which has five stars and is the best Geyser to use for hard water in India.
Positive
Italian design.
Energy saving.
It keeps the water hot for a long time.
Auto cut-off, thermostat, and auto cut-off.
Titanium Plus Technology.
Smart Bath Logic mixes the water equally.
High-Pressure Resistance water heater.
Negatives
Installation may be issued.
---
Conclusion
Our #1 Recommendation: Havells Monza EC 5S
Editors Choice
If you want a simple and value-for-money Geyser for Hard Water, you can buy this Havells Monza EC 5S, which fulfills your needs.
---
FAQ About Hard Water Geyser
Which is the best geyser for hard water?
If you're looking for an immediate answer to which geyser works best with hard water, In that case, we can, of course, recommend the Bajaj New Shakti Storage Geyser. Numerous characteristics include a large storage capacity, a 4-star energy rating, 8 pressure bars, and more. This Bajaj New Shakti Storage Geyser is the best for any user in terms of overall performance and effective service.
What is Hard Water?
You utilise hard water, whether it's from a direct source, a tubewell, or both. Simply put, hard water is water that contains a lot of calcium, magnesium, and other minerals in dissolved form. Additionally, consider that an excessive concentration of these minerals in water can harm the geyser's body and other components.
How can hard water affect your water heater or device?
Well, it can totally damage your geyser or water heater because it contains calcium, magnesium, and other mineral particles. So these are some points that can cause.

Scaling
Corrosion
Increase your electricity bills due to affect its performance
It can increase the sedimentation in the water heater
How to protect your water heater from hard water.
Hard water will undoubtedly impact your geyser and any other equipment that holds water. It is very unpleasant with metal, and certainly, with a geyser or water heater. To prevent this, you can take several precautions. You can take these precautions to protect your water heater from the effects of hard water.

Regular service and maintenance by professionals.
You can use water softeners.
Use the high-grade anode rod and replace it from time to time.
Your water heater or geyser should be corrosion-resistant.
Also See: