We will assist you in selecting the best low-latency neckband or in-ear wireless gaming neckband. A good gaming experience depends on many factors, one of which is clear audio quality with no lags. To fully enjoy gaming, you need a pair of neckband earphones with low latency and clear sound.
Several options are available for gaming neckbands in India, each with its features and benefits. In this article, we'll look at some of the best low-latency neckband earphones for gaming available in India, as well as their key features, pros, and cons. These neckbands allow you to enjoy your gaming sessions without the hassle of tangled wires or heavy headphones. Whether you're a professional or a casual gamer, these neckbands will elevate your gaming experience.
---
Our Top-3 Recommendations:
---
8 Best Low latency Neckband in India 2023
8 Best Low latency Neckband for Gaming in India
---
Is it actually effective in gaming?
Yes, it works well and is comfortable in the neckband. Neckbands are commonly used for music, traveling companions, calling, and workout purposes, but these days, neckbands have low latency modes and features that are impactful and effective while gaming. Let's look at some of the best gaming neckband earphones in India.
---
Here are the best gaming neckbands in India!
Noise Combat
USP:
A dedicated gaming neckband with 45Ms of low latency.
Gaming design with Breathing LED Lights.
ENC for reducing the background noise and fast charging supports.
Reason to Buy:
Noise Combat is the must-buy gaming in-ear wireless neckband that is comfortable on the neck and in your ears. There are no lags between gunshots, approaching sounds, or any other detail. Wearing these gaming headphones with ultra-low latency of 45 ms will put you ahead of the game.
It has a 10 mm speaker driver with environmental noise cancellation. This gaming neckband's omnidirectional sound gives you a life-like gaming experience. It is designed for gaming. The LEDs on the controller enhance your gaming experience with breathing LED lights on the controller and earbuds.
The ENC with a dual-mic system eliminates external disturbances & focuses on your game with Environmental Noise Cancellation technology and dual-mics. It comes with up to 25-hour playtime and Instacharge technology that delivers 8 hours of playtime in an 8-min charge.
Pros
Omnidirectional sound.
Dedicated gaming modes provide ultra-low latency (45ms).
ENC with dual-mic system: Eliminate the external disturbance.
10mm Speaker driver for a loud sound.
Breathable LEDs on the controller.
Dual pairing.
IPX5 water-resistance.
Cons
The music quality is not up to the mark.
---
pTron Tangent Sports
USP:
40ms Low Latency seamless gaming.
60Hrs jumbo battery life.
10mm driver produces punchy bass and loud sound.
Reason to Buy:
pTron Tangent Sports is another gaming neckband on the list that is best for gaming. The neckband has strong and stable ENC with BT 5.2 connectivity. Its dynamic drivers are 10mm in diameter and produce punchy bass and loud sound.
The pTron Tangent, a Sports gaming neckband, has AptSense 40ms latency. Latency. This Gaming in-ear wireless neckband has 10mm Dynamic Speakers that produce Powerful Stereo Sound & Punchy Bass. It has Type-C Port that helps Fast Charge.
Pros
Stereo sound with punchy bass.
Quick and dual pairing feature.
ENC technology.
Aptsense 40ms of low latency.
Passive noise cancellation.
60 hours of battery life.
Reasonable priced.
Cons
Long-time use gives pain.
---
SpinBot BattleBudz NX550
USP:
45ms Low Latency.
Green, breathable LED light looks stunning.
10min quick charge provides 5 hrs of battery life.
Reason to Buy:
The SpinBot BattleBudz NX550 appears to be a good option for gamers who prefer earphones with a neckband. This is a Bluetooth-enabled wireless gaming neckband that connects to devices. It has a 10mm driver and supports a variety of audio codecs. The neckband has a built-in microphone and a battery life of up to 10 hours. It also has magnetic earbuds to keep it organized. Furthermore, the neckband has an IPX5 water-resistance rating, making it suitable for intense gaming sessions or workouts.
The SpinBot BattleBudz NX550 is elegantly designed, with green LED lights on the earbuds. This is a breathable light that glows beautifully in the dark while gaming. Because it has both the best features, the design, and the ultra-low latency mode, it is the most popular gaming neckband.
It has a battery backup of 30 hours in music mode and 18 hours in gaming mode with the LED turned on. It has a fast charging time of 10 minutes for 5 hours of playtime. Aside from that, it has a dual pairing feature, which is useful when using two devices simultaneously.
Pros
Dual pairing feature.
Dual mode for gaming and music.
Ipx5 water resistant.
Magnetic earbuds.
10mm drivers.
Type c fast charging.
---
Wings Phantom 205
USP:
40ms Ultra-Low Latency.
ENC Mic.
10mm drivers with AAC codec supports.
Reason to Buy:
The Wings Phantom has a one-of-a-kind metal shell design that looks stunning and fits perfectly in your ears. It fits snugly, passively blocking noise, and has a 10mm AAC codec that supports ENC drivers, allowing for clear voice calls.
It has two important features: environmental noise cancellation and a 40-ms low latency mode that makes your calling experience clean and clear, as well as low latency for lag-free gaming.
The Wings Phantom 205 is Bluetooth 5.3 compatible. It is an ultra-lightweight neckband ideal for multitasking, such as gaming, working out, and traveling. It has a vibration alert for calling, touch controls for music play, pausing, and accepting or rejecting calls, and an IPX5 water-resistant design for water and sweat protection.
Pros
40ms Low Latency.
ENC.
50 Hrs of Total Playtime.
Latest Bluetooth 5.3.
Calling vibration alert.
IPX5 sweat and water-resistant.
The price range is too low, and the features are amazing.
Cons
Touch control irritates you sometimes.
Note:
You may like its other model with a gaming design, 
Wings Phantom 110
. It comes with ENC Mic, Dual Pairing, Dedicated Bass Boost Mode, and Gaming Mode with 50ms Ultra Low Latency Headphones.
---
ZEBRONICS Jumbo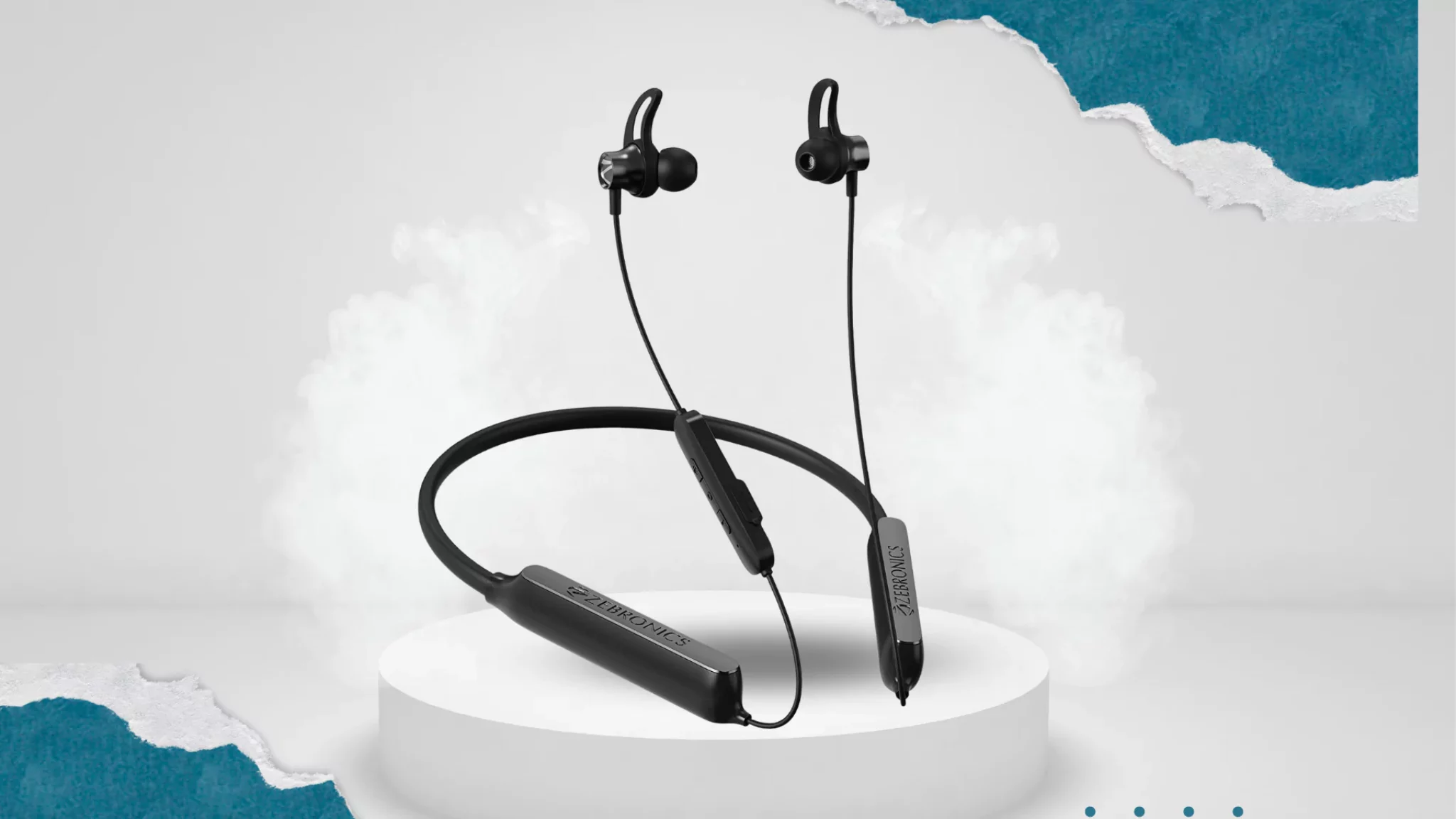 USP
1000mAh Built-in Battery for jumbo battery life.
ENC for better calling.
Gaming mode with 50ms low latency.
Reason to Buy:
ZEBRONICS Jumbo is a gaming neckband with a 1000 mAh battery that provides 160 hours of playback and fast charging. The ZEBRONICS Jumbo can charge itself for the next 15 hours in just 10 minutes.
This flexible neckband is a little bulky, but it is ideal for use on the bike while traveling and during workouts. It has Bluetooth v5.2 and a dual pairing feature.
The Jumbo gaming neckband features Gaming Mode, which reduces latency by up to 50 ms. It has deep bass and loud music. The wing design fits perfectly, so outdoor noise is blocked, and you can easily enjoy your music.
Pros
1000mAh Built-in Battery.
Fast charging 10 min for 15 hours.
Gaming Mode (Up to 50ms).
Dual Pairing.
Good bass and loud sound.
Environment noise cancellation.
---
boAt Rockerz 245 Pro
USP:
Beast Mode for Super Low Latency.
ENx Tech for Clear Calls.
Dual Pairing & BT v5.3.
Reason to Buy:
The best-selling boAt Rockerz 245 pro-in-ear wireless gaming neckband is flexible and has a flat cable that does not tangle. The boAt Rockerz 245 pro features magnetic earbuds and long-lasting construction.
The Rockerz 245 Pro has a gaming mode called Beast Mode. Rockerz 245 Pro wireless neckband with low latency BEAST Mode, the ideal setup for gaming and binge-watching sessions. With the standard ENx technology, designed for environmental noise cancellation, you can be heard across voice calls.
Regardless of genre, the 10mm audio drivers allow the boat's signature sound to shine. It has Dual Pairing and Bluetooth v5.3, so you can enjoy purely wireless auditory bliss while connecting to two devices simultaneously.
It has ASAP Charge technology, which allows you to charge for 10 hours in just 10 minutes. At 60% volume, this wireless neckband has a total playtime of up to 20 hours on a single charge via the Type C interface.
Pros
Good at calling.
Best for gaming.
Latest Bluetooth 5.3 connectivity.
Enx noise canceling technology.
---
GOVO GOKIXX 652
USP:
ENC Technology.
Type C fast charging.
60 Hours Battery.
Reason to Buy:
The GOVO GOKIXX 652 is another excellent gaming neckband with long battery life and a simple yet elegant design. The GOKIXX 652 has dual-driver ENC Technology, which improves the clarity of your calls.
These magnetic neckbands charge quickly and have a total battery life of 60 hours, making them ideal for gamers and people who travel with a neckband.
The GOVO GOKIXX 652 has a dedicated gaming mode that reduces latency and helps you stay ahead of the game. It is one of the best gaming neckbands, with excellent sound quality and gaming features.
Pros
It is best for calling, music, and of course, gaming.
Dedicated gaming mode.
Fast charge with huge 60 hours of battery life.
ENC technology for clear calling.
10mm drivers & chipset for deep bass and PRO audio.
---
Portronics Harmonics Z4
USP:
Dedicated Gaming Mode.
Cheapest gaming neckband.
Good battery life with fast charging feature.
Reason to Buy:
The main reason for including this Portronics neckband on the list of the best neckbands for gaming is its low price. The Portronics Harmonics Z4 features Bluetooth 5.3 connectivity and an IPX4 water-resistant design. Overall, it has a good design and builds quality for 699 rupees.
The Harmonics Z4 has inline volume and gaming mode controls. The dedicated gaming mode provides exceptional lag-free gaming. If you want to buy a less expensive gaming neckband, the Harmonics Z4 is the best option. It has good sound, a decent design, a long battery life, and a gaming mode.
Pros
IPX4 Water Resistant at this price range.
30Hrs Playtime.
Gaming Mode.
Fast charging.
Cons
Build quality is below average.
---
FAQ
What is the lowest latency neckband in india?
The boAt Rockerz 245 Pro 40ms latency is the lowest latency neckband available in India.
Also See: