If you want a neckband or Bluetooth earphone that won't break the bank, look into neckbands that cost between 800 and 1200 rupees; otherwise, go with less expensive wired headphones that cost less than 500 rupees. However, if money is tight, Rs. 1000 is the right amount to spend on Bluetooth earphones with good sound quality and respectable battery life.
Everyone wants to use a wireless neckband as you look for Bluetooth earphones on a very limited budget because they have become very popular and important. If you're ready to switch to wireless audio and video, our list of the best Bluetooth earphones under Rs 1,000 can help. Because wireless earphones are so convenient and hassle-free, people have been drawn to using them. They are lightweight, portable, and even offer a hassle-free wireless connection between a mobile device and earbuds.
The best wireless earbuds on a budget are now available in India for less than one thousand rupees. Fast charging, low latency modes, dual pairing, and other features can be found in India's best neckband for under a thousand rupees. Finding the best neckband for under Rs 1,000 in India can be difficult due to the vast selection of earphones on the market. As a result, we've included a list of the best neckbands under Rs 1,000 in India.
What can you expect from under 1,000 wireless neckbands?
The cables and wires are chaotic, which is why the runners dislike them. Since most users of wireless earphones commute daily, dealing with wires is a hassle for people who use public transportation frequently.
Therefore, it is not surprising that you are looking for a good neckband and the best Bluetooth earphones for less than 1000 rupees in India. Far too many options are available, making it difficult to select a good pair of neckbands. Therefore, our experts chose just the top five.
Also, read Best Gaming Headphone Under 1000.
These 5 major key points you should consider before buying one:
Sound quality
Voice calling clarity
Battery capacity
Fast charging feature
Design and build quality
If you want to read a complete buying guide, you can read how to buy a neckband.
truke Yoga Mystic lite
truke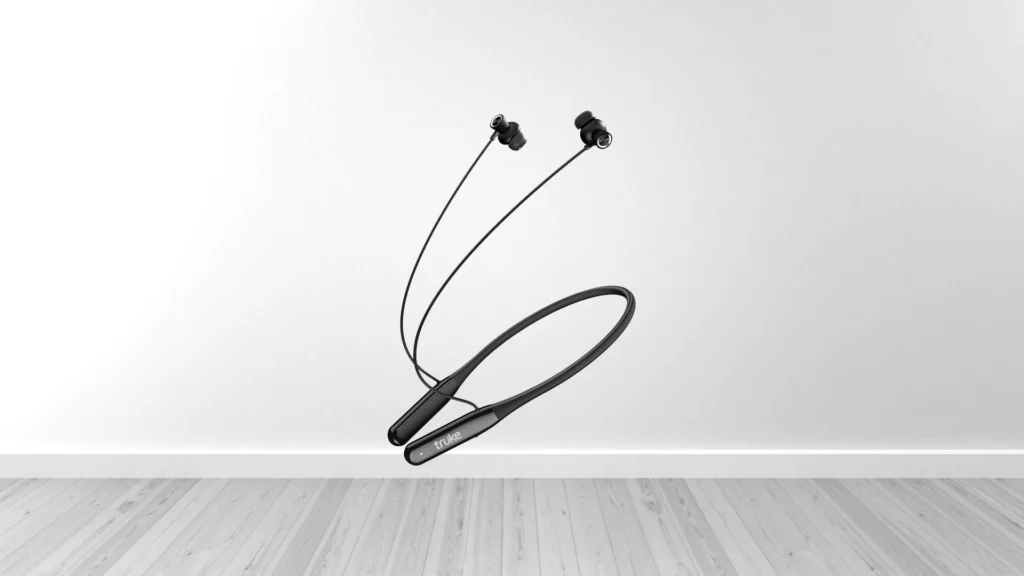 Features:
Bluetooth 5.2.
40ms Low Latency.
ENC for clear call quality.
13mm Titanium Speaker drivers.
50 hours of playtime.
In-built microphone.
USB-C Fast Charge.
Real Silicon Design.
Reason to buy:
Truke is a new brand in India, but it has amazing features and specifications at this price point, as well as amazing build quality and design.
The truke Yoga Mystic is very light and has a battery backup of 50 hours with Type-C charging support. You can use it for calling because it is under Rs. 1000 and comes with ENC, which allows for very clean calling quality.
It has three more outstanding features that compelled me to place it at the top of the list. Some features with higher-quality and higher-priced neckbands are the 13mm titanium speaker, dual pairing, and 40ms low latency. Despite this, you can use it for gaming due to the up to 40 ms low latency and dual pairing feature, which costs less than Rs. 3,000.
Pros
Ergonomic design.
Dual pairing.
40ms Ultra Low Latency.
13mm TITANIUM Speaker that is powered by AAC Codec.
Type c fast charging.
Lightweight, durable, and comfortable.
Cons
100g weight bulky.
Magnetic play and pause or on-off are not available.
No vibration while calling.
Price in India: ₹899
Features:
Sophisticated design that fits snugly with comfort.
ENC for better-calling quality.
Bluetooth 5.3 strong connection with dual pairing.
IPX5 water is sweat-proof.
Reason to buy:
WeCool is yet another new brand with incredible features and performance. The Wecool N1 is an ergonomically designed high-bass ENC neckband in earphones. These sports-fit Bluetooth neckband earphones have a 12-hour battery life and type-C fast charging, which allows them to be charged in just 1.5 hours.
Whatever you use it for, whether running or calling, it is the perfect match for you. It is an IPX5-rated water and sweat-proof neckband ideal for everyday use. Bluetooth V 5.3 with dual multi-point pairing ensures a strong and stable connection.
When it comes to music, this neckband delivers powerful, immersive sound from its 12 mm Titanium Dynamic Drivers. Listen to all music, including Bollywood music, with a soft and clear voice. Other premium class features that contribute to its inclusion in the list include ultra-low latency of 55 ms, the magnetic feature, inline controls, and so on. It costs only 799 rupees. That is perfectly reasonable.
Positive
It has an ultra-low latency of 55 ms, making it the best gaming neckband under 1000 rupees.
Strong Bluetooth connection.
It is so comfortable in your ears.
Negatives
No fast charging.
The battery is a little lower than others.
Price in India: ₹599
Boult Audio XCharge
Boult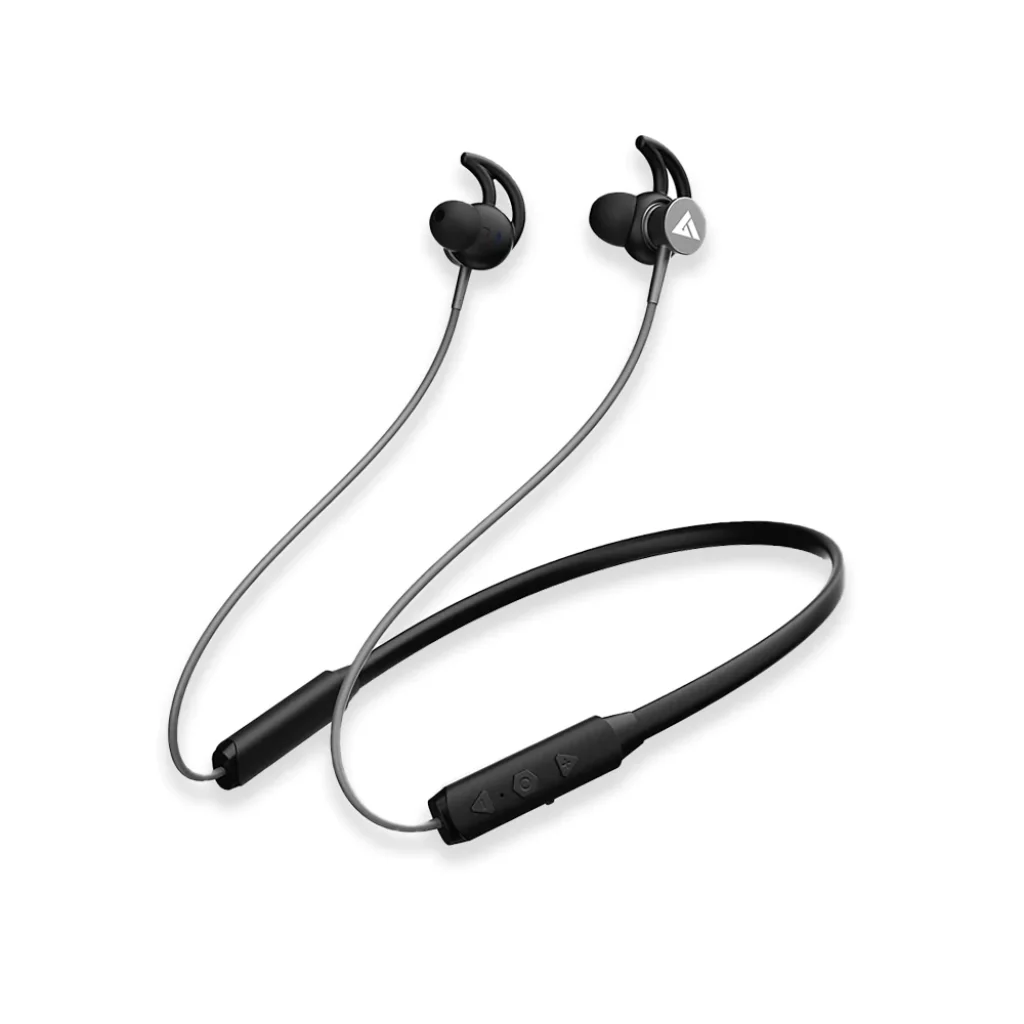 Features:
Only it has 15 min fast chagrin for 15 hours among the top 5 neckbands under 1k.
Huge 14.2mm Bass Drivers.
20H Playtime.
ENC Mic for better calling quality.
Reason to buy:
Boult is a leading wireless audio brand in India with some fantastic products, including this one. These are the newly released Boult Audio XCharge Wireless in-ear Bluetooth earphones, which include ENC for clear and improved voice calling with minimal background noise. It has a wing design that fits perfectly in your ears and can be used while working out or running. It is a long-lasting yet lightweight neckband drape comfortably across the neck and has in-line controls.
The micro-woofer drivers in this snug-fitting and comfortable neckband passively isolate noise. The robust aerospace-grade aluminum alloy encased over micro-woofers generates deep bass while isolating noise in any environment.
It is ideal for music and general use. It has excellent sound output and a comfortable design. Only this neckband supports Type C fast charging, which allows you to get 15 hours of playtime in just 15 minutes. Aside from that, it has environmental noise cancellation for improved call quality.
Pros
Environment noise cancellation.
Snugly fit and comfortable for running, gym, and exercise.
The best sound and bass boosted a huge driver of 14.2 mm.
Cons
Wire quality is compromised.
Price in India: ₹899
Features:
Spatial Bionic Sound Powered by Dirac Virtuo™.
Touch control sensors.
Beast™ Mode.
ENx™ Tech.
30H Playtime.
ASAP™ Charge.
Reason to buy:
The latest neckband from BoAt Rockerz is the Apex, a value-for-money neckband in terms of features, performance, and overall build quality. Rockerz Apex Bluetooth Neckband features Spatial Bionic Sound powered by Dirac VirtuoTM. The Boat Rockerz Apex's 12mm audio drivers deliver a Signature Sound experience that shines through no matter what genre you play. It also has ENx technology, which allows you to be heard clearly indoors or outdoors.
This neckband is made to fit your ears well and has low latency in the form of BEAST Mode, so you can play games or watch many videos without lag.
With the Type C fast charging, the wireless neckband provides a total playtime of up to 30 hours on a single charge; make sure to use it at 60% volume. Another excellent feature of this neckband is the ASAP Charge feature, which allows you to play for up to 10 hours after only 10 minutes of charging.
Pros
12mm audio drivers.
Comfort with edgy aesthetics and ergonomic industrial design.
Fast charging gives you 10 hours in just 10 min of charging.
ENx technology lets you be heard with crystal clear calling experience.
Touch Controls.
Low latency.
Cons
No play pause with magnets.
Some lack in controls with touch controls.
Note:
If you want the perfect pair to your particular need, see below its other models;
In-line button control neckband with same feature – 
boAt Rockerz 378
.
Best selling neckband – 
boAt Rockerz 330
.
boAt's neckband for running and workout – 
boAt Rockerz 261
.
Price in India: ₹1,299
Infinity (JBL) Glide 120
Infinity
Features:
12mm Drivers.
Deep Bass.
Dual Equalizer.
Bluetooth 5.0,
IPX5 Sweat-proof.
Reason to buy:
The Infinity (JBL) Glide 120 Bluetooth neckband is one of the best for under Rs 1,000. The Glide 120 is made of high-quality plastic. The overall construction and exterior design are high quality, and the cable and neckband are flexible. The magnetic buds are made of aluminum, which gives them a premium feel.
The Infinity Glide 120 comes with a 12mm driver, Bluetooth 5.0, and a dual EQ mode, making it one of the best under 1k in India. The dual-equalizer mode improves sound quality by favoring clear vocals and treble over heavy bass. It has a deep bass overall, which most bass lovers will enjoy. Overall, both the bass and non-bass sound quality is excellent.
It has volume up and down buttons that work together, and the earphone switches to deep bass mode. It has nearly 5 hours of battery life, and switching to deep bass mode reduces battery life slightly. Normal bass mode at 80% volume.
It does not support dual pairing, but it has a stable connection. It can easily connect to both mobile and laptop devices. It would help if you bought it for good quality music with balanced bass because the outdoor calling experience in this neckband was not so good. It also lacks low latency, so it is unsuitable for gaming. If you want to purchase a balanced neckband, you can do so.
Pros
Magnetic neckband.
IPX5 rated.
Flexible design.
Tangle-free cable.
Dual EQ.
Metal earbuds look premium.
Most selling wireless neckbands under 1000 Rs.
Cons
No magnet on-of and play-pause feature.
Less Battery Life
Price in India: ₹999
Features:
Bluetooth 5.0.
Dual Pairing.
Heavy Bass.
10 Hours of Playtime.
Wing design.
Fast charging.
Reason to buy:
Wings Elevate includes smooth silicon ear tips with wing designs that fit perfectly in your ears and provide a snug fit. Because of the wing design, you can wear this neckband while running, working out, or going to the gym. It is a little bulky at 200 grams, but if you want to use it while working out, you will need a bulky neckband.
It has Bluetooth 5.0, which gives you a stronger and more stable connection over a distance of up to 10 meters.
These Wings Elevate neckbands have a playtime of up to 4 hours with only 20 minutes of charge and a total playtime and talk time of 14 hours, which is adequate for this neckband. It is made of concrete, and the sound cavity provides rich, deep bass and crisp trebles. You can connect it to two devices at once, allowing you to seamlessly switch between music/video conferences on your laptop and phone calls on your mobile.
Pros
You can connect two devices at once.
Best for running and workout.
A durable build quality.
Overall looks so premium.
IPX5 Water-resistant.
Fast Charging.
Cons
No magnet on-off and play pause feature.
No Low Latency.
Below-average ANC.
No aptX support.
Note:
You may like another best neckband under 1k, 
Riviera RNB 07
. It is underrated, but we tested it, and it performs very well at this price.
Price in India: ₹1,198
Also, read Best Neckband Under Rs. 2,000
FAQ – Best Neckband Under 1000 in India 2023!
Which company neckband is best under 1000?
Truke, Wings, Boult, BoAt, and Infinity are the top five brands offering the best neckbands under Rs. 1,000.
Which brand neckband is best?
Truke Yoga Mystic is the best neckband. You can use it for calls and music, and the battery life is good.
Which boat neckband is best under 1000?
boAt Rockerz Apex Bluetooth Neckband is the best because it was recently launched with some great features and performs very well.
Which wireless Bluetooth is best under 1000?
Truke and wecool are the top two neckbands under 1000 in India.
Which company neckband is best under 1000?
boAt, Truke, Infinity, Boult, and Wecool are the best neckband companies under 1000.
We are sorry that this post was not useful for you!
Let us improve this post!
Tell us how we can improve this post?