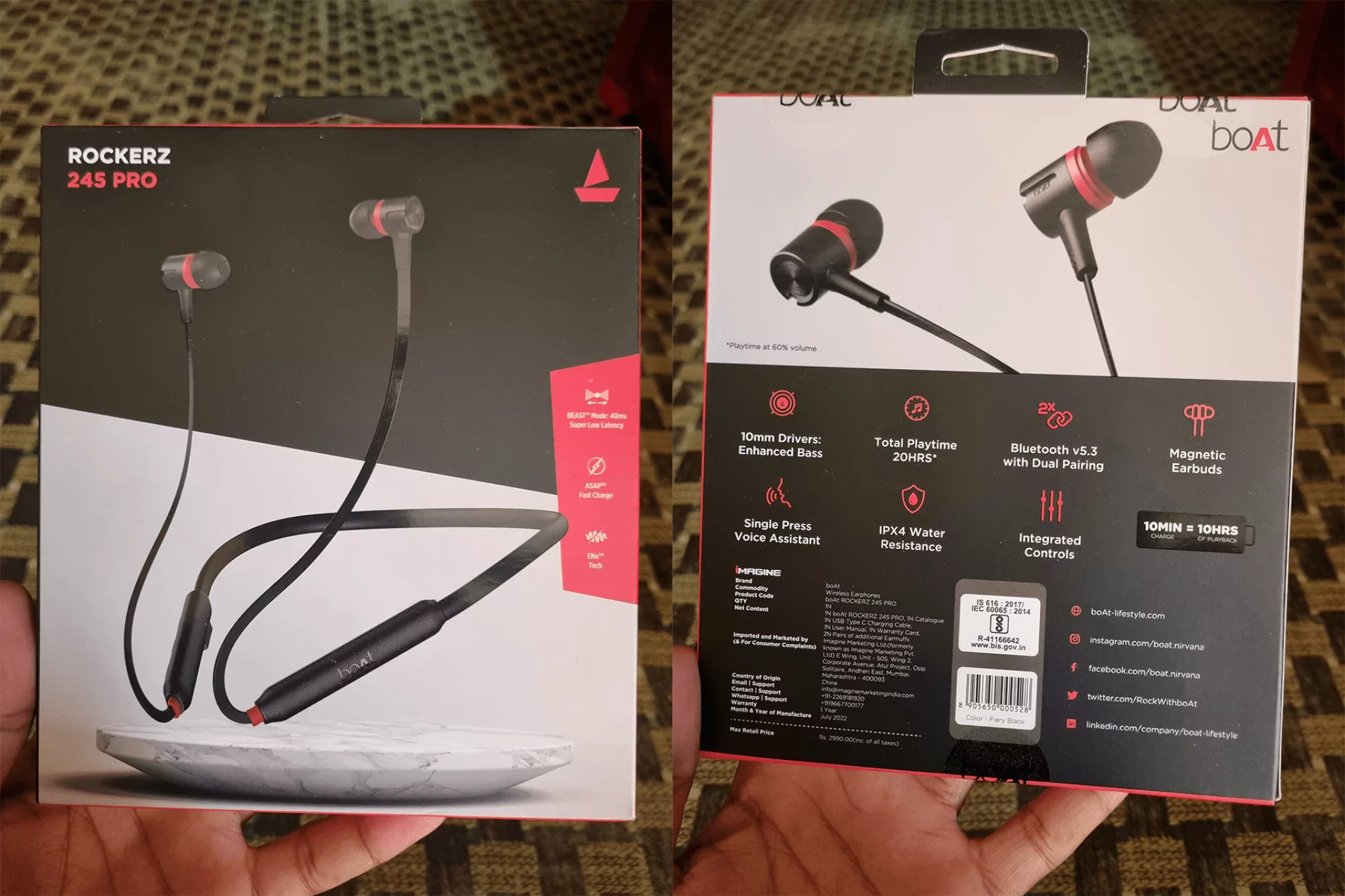 This is the review of the BoAt Rockerz 245 Pro based on the personal experience shown in this article.
HIGHLIGHTS
The Bluetooth v5.3
Magnetic earbuds.
Additional charging cables.
Rockerz 245 pros are marked with IPX4 water and sweat resistance.
Controls: control playback, pick-up calls, and volume up and down.
also, check boAt Rockerz 255R Neckband Review
Review
Affordable Calling Neckband
Best calling experience under Rs. 1000 neckband along with robust connectivity.
Where to buy
Design
This is a soft-headed wireless neckband with 50 g in weight and comes in three different ear tip sizes: large, medium, and small. It measures 20 x 20 x 450 mm and is available in four appealing colors. I liked the black one the best of the four (black, blue, grey, and red). You can wear it behind your neck and carry it over your shoulder from morning to night. It has a strong build quality and a flat braided cable that will not tie. I have encountered one issue: its long length, which means that if you want to use it during sports activity, it slips over the neck and from side to side.
Performance
It is ideal for phone calls. Though its soft sound is ideal for music, it should be purchased for more than just that purpose. It is for you if you listen to a soft or long music. Music does not break on full sound. If you want to play games in this neckband, don't buy it because it has latency while gaming, so it's not for gamers. It is the best neckband under Rs. 1000 for calling, music, and build quality.
Features
It is supported by 10mm regular drivers and Bluetooth v5.3, which is the most notable feature of this low-cost neckband. If you go far and want to keep it outside of the wall or the next room in your home, or any other location where it works well without any faulty connection or breaking voice.
It has a frequency response range of 20 Hz to 20000 Hz. It works well for calling and music, but if you like bass, wait; it's best for calls. It eliminates background noise, resulting in a clear voice on both sides.
It has a long battery life, which I found striking when I used it. If it becomes discharged, don't worry because it has type-C charging and 10-minute charging equals 10-hour charging. You also don't need to carry an extra cable because of type-C charging.
also, check more headphones reviews
Connectivity
its latest Bluetooth v5.3 connection gives a strong connection and which is the latest version of Bluetooth means more energy saving.
Battery
It has a 150 mAh battery that provides 10 to 20 hours of playtime. It is powered by USB Type-C, allowing you to charge it with your mobile charger without needing an additional cable. It also allows you to charge 10 hours of playtime in just 10 minutes of fast charging.
also, check boAt Rockerz 235v2 Review
Positive
The flat cables.
Soft music. 
Best for calling.
Fast charging.
Long battery life.
Negatives
Magnet play pause is not available.
Not quick pairing by a magnet.
It's suitable for music, but don't buy it only for music.
Please don't buy it for gaming. It has latency while gaming and sometimes in downloaded movies, not online or YouTube videos.
We are sorry that this post was not useful for you!
Let us improve this post!
Tell us how we can improve this post?