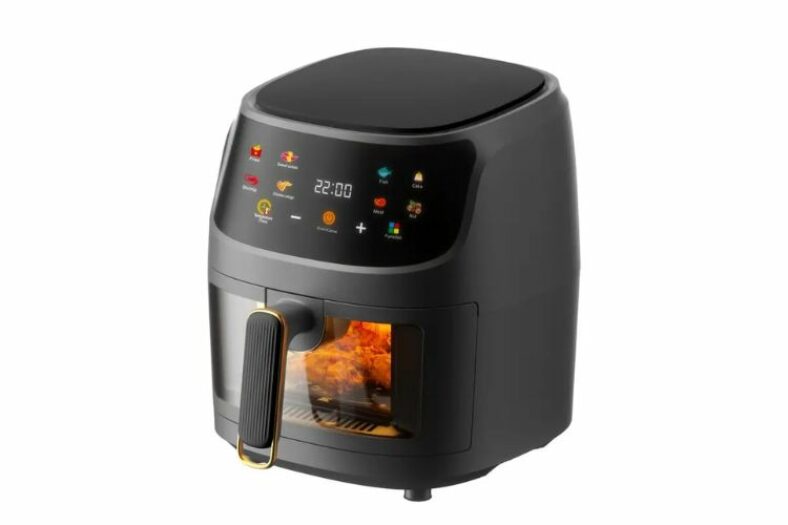 (Last Updated On: October 15, 2023 22:09)
Introducing COSKIRA, the avant-garde home and kitchen company ready to revolutionize your culinary experience. They've unveiled their latest masterpiece, the COSKIRA 8 L Air Fryer, designed for those who demand excellence in the upper price range. This air fryer comes to life with its cutting-edge features – a sleek digital touch screen, a transparent basket that invites you to witness the magic, and even NutriU app recipes for the tech-savvy chef. So, check out the extraordinary features, detailed specifications, and pricing of this game-changing kitchen appliance.
COSKIRA 8 L Air Fryer Features and Specifications
The COSKIRA Air Fryer has a stainless steel and plastic body featuring an 8-liter capacity (large high capacity). It is a smart cooking program hot air fryer with a visible cooking window and automatic customization. It comes with 360° hot air circulation heating technology and offers 8 preset menus for a quick start, eliminating the need to adjust time and temperature. With the help of the NutriU app, you can discover hundreds of mouthwatering air fryer recipes. The COSKIRA 8 L Air Fryer has a temperature adjustment from 80°C to 200°C with a 60-minute timer, and the air frying basket is non-stick coated.
The COSKIRA 8 L Air Fryer has dimensions of 29D×24W×35H cm and weighs 850 grams. It has a 1200W power rating, operates at a frequency of 60 Hz, and offers an automatic power-off safety function. The non-stick cooking surface makes it easy to clean. This air fryer performs multiple functions such as baking, grilling, roasting, and dehydrating. It offers a low-fat diet by using a separate oil filter pan, which separates oil at high temperatures.
Price and Availability
The COSKIRA 8 L Air Fryer is priced at Rs 9,499. This air fryer is available on Amazon, Flipkart, and its official website. COSKIRA 8 L Air Fryer offers color options in white and black.
Information and Image Credit to Amazon
Also, Check