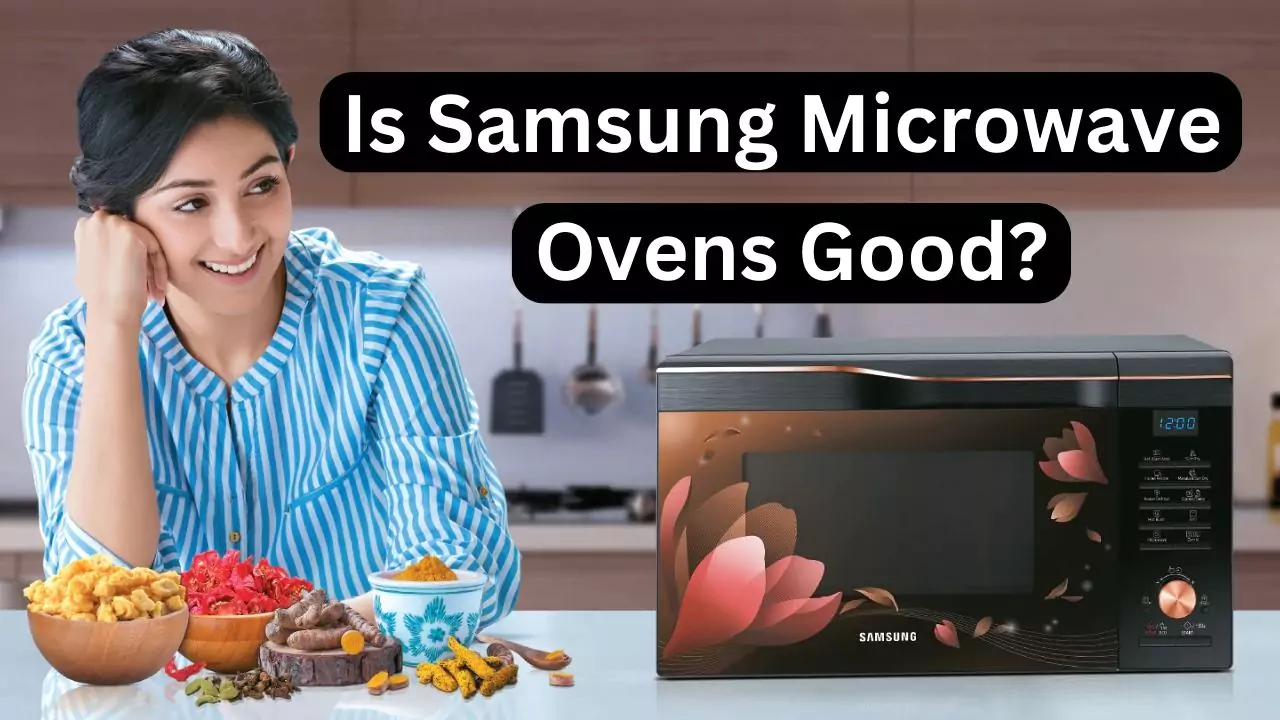 (Last Updated On: November 1, 2023 18:47)
One thing is certain: Samsung is a top contender in the microwave market, whether it's a solo microwave, a convection microwave, or an OTG oven. Samsung delivers exceptional products with elegant designs, long-lasting durability, and rich, effective features.
Samsung boasts a broad range of microwave ovens. From budget to premium segments, it provides products that cater to diverse kitchen needs, be it urban or rural. You can prepare and cook a variety of cuisines, including Indian dishes and more.
If you're in search of the best kitchen solution, consider Samsung kitchen appliances. Samsung stands out as one of the best in kitchen solutions. Wondering why this brand is so popular and ranks among the top three best-selling brands in India? Let's delve deeper. Whether you're an experienced homemaker or someone keen on honing your cooking skills, explore Samsung as the premier kitchen appliance (specifically microwave oven) brand.
---
About Samsung Brand
You might know, that Samsung is a South Korean brand that makes a variety of products such as Mobiles, TVs, Monitors, Kitchen and home appliances, electronic goods, and many more. This consumer and industry electronics is a global brand that is truly successful in India.
Samsung Group is literally vast and it was founded in 1938 by Lee Byung-chul as a trading company.
Samsung is now a global leader in almost all kinds of consumer products. Samsung is one of the top brands in India, especially in mobile phones, TVs, home and kitchen appliances.
If you're considering purchasing a Samsung microwave, you may have a few questions:
Is the Samsung microwave oven a reliable choice?
Should I invest in a Samsung kitchen appliance?
---
Is Samsung a Reliable Manufacturer of Microwave Ovens?
In one word: Yes! Samsung is an industry giant and produces a plethora of products globally. This includes smartphones, accessories, audio and wearable products (like earbuds, neckbands, and smartwatches), tablets, laptops, home appliances (such as TVs, washing machines, ACs, and refrigerators), and kitchen appliances (including microwaves and dishwashers). Within this extensive list, Samsung is notably a leader in kitchen appliances, especially microwave ovens.
Samsung offers a wide variety in ovens. Their range includes grill microwave ovens, slim fry convection microwave ovens, microwaves with tandoor technology, and many more features tailored for beginners, chefs, home use, and professionals.
So, does the question still remain: Is this brand worth considering for a microwave oven? Absolutely. Samsung offers premium quality products. Whether you need an oven for an urban or rural kitchen, Samsung provides a plethora of options in both online and offline markets. You can cook and prepare a vast range of dishes and recipes, not only from India but also from cuisines worldwide.
Samsung excels in delivering a delightful taste in cooking. Whether you aim to prepare dairy products, desserts, roti or naan, bake pizzas or cakes, or anything else, Samsung ensures your food is both healthy and delicious.
Also, it's worth noting that Samsung's excellence isn't just due to the variety of models and features they offer, but the effectiveness of these features. Each feature performs optimally. So yes, Samsung is a reputable brand in the realm of microwave ovens.
---
Price range of Samsung Microwaves
Samsung is considered a premium brand in microwaves. It offers a wide range of microwave ovens, with prices starting from Rs. 8,000 and going up to around Rs. 35,000. This range encompasses everything from regular convection microwaves to smart ovens with built-in WiFi, allowing for intelligent use. Whether you need a small or large size, you'll be able to select the best possible option based on your requirements.
---
Versatility of Samsung Microwave Ovens
Samsung offers more than 300 cooking menus and auto cooking presets. You can prepare and cook variety of Indian and continental recipes which makes it literally a must have kitchen appliance. It is a brand synonymous with innovation and quality, has made significant strides in the realm of kitchen appliances. The Samsung Microwave have garnered attention not only for their sleek designs but also for their remarkable versatility. Here's a closer look at what makes Samsung ovens versatile:
Range of Models: Samsung's array of ovens caters to a broad spectrum of needs. From basic models suitable for everyday cooking to high-end ones equipped with smart features, there's an oven for every household as we discussed above.
Innovative Features: Many Samsung ovens come with unique features such as the "Smart WiFi" connectivity, which allows users to control and monitor their ovens remotely via smartphone apps. This innovation makes it convenient for those who like to multitask or keep an eye on their cooking from a distance.
Varied Cooking Modes: The convection setting, grill mode, slim fry, and tandoor technologies are just a few examples of the diverse cooking modes available in different Samsung oven models. These functionalities enable users to prepare a variety of dishes ranging from roasted meats to baked goods, all in one appliance.
Size and Capacity Options: Recognizing that not every kitchen or family size is the same, Samsung offers ovens in various capacities. Whether you live alone or have a large family, there's a Samsung oven tailored to your needs.
Eco-friendly and Efficient: Samsung has consistently been on the forefront of creating energy-efficient products. Their ovens are designed to minimize power consumption without compromising on performance, aligning with the brand's commitment to sustainability.
Durability and Build Quality: Versatility isn't just about features and functionality. Samsung ovens are constructed with premium materials ensuring longevity, meaning users won't have to replace their ovens frequently.
Samsung is just above and topped among the microwave oven brands. The versatility of Samsung ovens stems from their ability to cater to a wide array of culinary needs while ensuring durability, efficiency, and innovation. Whether you're a novice cook or a seasoned chef, Samsung's range of ovens promises to elevate your cooking experience.
---
Samsung microwave ovens are not only convenient but also a valuable addition to your kitchen. This isn't a biased opinion; it's the view of experts. You can prepare a variety of dishes using its different models. All you need to do is determine the specific purpose for which you need a microwave oven. Be sure to check out the recipe PPT from Samsung.
---
Suitable Utensils for Cooking in the Samsung Microwave
Various utensils can be used in the microwave, but not all are safe. China clay pots, ovenproof glass, and glass-ceramic dishes are ideal for microwave cooking. Fine bone china and ordinary glass should only be used for short durations, as they can break from extreme heat. Paper cups, cartons, cling film, and thermoplastics are also microwave-safe. However, never use metal or foil containers, as they reflect microwaves. Additionally, melamine utensils can become compromised and burst when heated.
---
Some Top Class Samsung Microwave Ovens
Samsung 28L, Slim Fry, Convection Microwave Oven with Tandoor and Curd making(CE1041DSB3/TL)
Specifications
| | |
| --- | --- |
| Capacity | 28L |
| Grill | Yes |
| Turntable Feature | Yes |
| Auto Cooking | Yes |
| Ratings | 4.4/5 |
| Highlights | It has so many necessary features such as slim fry, Roti/Naan, Curd/Dough Proof, Power Defrost, Combo (Convection + Microwave), Indian Recipe, Convection, Grill, Microwave, Turntable On/Off, Clock, Child Lock, Eco Mode, 30 Sec + |
Samsung 28L, Slim Fry, Convection Microwave Oven
The Best Samsung Microwave Oven
This 28-liter convection microwave oven excels in both key aspects: affordability and multifunctionality. It's a health-conscious oven, featuring a slim fry option that allows for grilling with minimal oil. Just apply a small amount, similar to an OTG, and grill effectively.
What sets this particular convection microwave oven apart is its Tandoor and Curd-making capabilities, distinguishing it among microwave ovens.
It's equipped with numerous Indian and some continental recipes, making it user-friendly and often a top choice. Its extensive recipe range gives it an edge. Whether you're making curd or dough, it bakes seamlessly.
Overall, Samsung microwaves are feature-rich. This model includes a Timer, Programmable settings, Defrost, Grill Function, Turntable, Child Safety Lock, Eco Mode, Auto Cook, Racks, and One Touch Button. These features are not only effective but also enhance user convenience, solidifying Samsung's position at the pinnacle of microwave oven brands.
Pros
On the very balanced price range, it is suitable for large families due to 28 L capacity.
Child lock for extra safety.
It is a dedicated Convection + Grill + Microwave with Turntable On/Off and clock.
You can turn off the beep.
Variety of cooking modes.
Cons
Digital control is not easy to to operate by everyone.
---
Samsung 23 L Grill Microwave Oven (MG23A3515AK/TL)
| | |
| --- | --- |
| Capacity | 23L |
| Grill | Yes |
| Turntable Feature | Yes |
| Auto Cooking | Yes |
| Ratings | 4.3/5 |
| Highlights | Browning Plus (Grill +30 Sec), Keep Warm, ECO Mode, Quick Defrost, Deodorization |
Samsung 23 L Grill Microwave Oven (MG23A3515AK/TL, Black)
Samsung Compact Small Family Microwave Oven
The Samsung MG23A3515AK/TL is an excellent choice for small families and couples. With a capacity of 23 liters, this microwave oven is specifically designed for grilling. Its sleek and elegant design features a minimalistic display, a user-friendly handle, and button controls.
On this great price range, it is an ideal choice for households of three to four people, which is just 23 liter and no other brand is capable for a small family on just 23 liter capacity.
it offers both a control knob and touch buttons (membrane), ensuring ease of use and making it a favorite due to its user-friendly operation.
It's the best choice because it's truly a one-time investment. Equipped with a ceramic interior that is anti-rust, long-lasting, and easy to clean without retaining any odors, its durable and breakage-free internal construction makes it my personal favorite.
The deodorization feature keeps your kitchen odor-free and maintains a healthy and fresh environment. Cleaning is a breeze; you can easily remove the racks and tray for quick and hassle-free maintenance.
This microwave oven provides a wide range of functions, including auto cook, quick defrost, keep warm, deodorization, microwave, grill, combination cooking, and a clock and timer feature, making it a well-rounded appliance for various daily kitchen tasks.
Setting it apart from the competition, the Samsung MG23A3515AK/TL boasts a sophisticated and minimalistic design, convenient auto-cooking presets, user-friendly controls, excellent build quality, and a reasonable price range, making it a standout choice for any urban kitchen.
Pros
Its ergonomic and elegant design.
Eco mode allows you to save the electricity.
Grill +30 sec feature ad extra texture and taste.
23 liter size is capable for three to four people which is literally better than any other brand.
You can prepare frozen food too.
It is a latest 2023 model with great features.
Best selling microwave oven.
CERAMIC INSIDE is anti-corrosion, rust free, and last for long.
Cons
---
Samsung 28L, Hotblast, Slim Fry, Multi Spit , Convection Microwave Oven with Tandoor and Curd making (MC28A6035QS/TL)
| | |
| --- | --- |
| Capacity | 28L |
| Grill | Yes |
| Turntable Feature | Yes |
| Auto Cooking | Yes |
| Ratings | 4.4/5 |
| Highlights | |
Samsung 28L, Hotblast, Slim Fry, Multi Spit , Convection Microwave Oven with Tandoor and Curd making
Overview
The Samsung Hotblast is another outstanding microwave oven with a plethora of essential and premium features. This large convection microwave oven is equipped with Slim Fry, Multi Spit, Tandoor, and Curd-making features, making it suitable for both urban and rural kitchens.
Whether you're preparing pizza, cake, cooking meat, chicken, or making roti, the Samsung Hotblast is an ideal choice. Its larger size and multifunctional capabilities allow you to handle a wide range of kitchen tasks.
One of its standout features is the Hotblast Technology, which has become a favorite among those who cook meat and chicken. This technology blows high-temperature air through multiple air-holes directly onto the food, reducing cooking time and ensuring even cooking with a crispy outside and juicy inside.
Additionally, all Samsung models feature Slim Fry technology, enabling healthy grilling with a touch of oil for crispy and delicious results.
With its array of features and impressive performance, this Convection Microwave Oven is not just for baking but also for grilling, reheating, defrosting, and general cooking. It's the perfect choice for individuals seeking a multifunctional, large convection microwave oven.
Pros
Ergonomic design.
Large size.
It has Hotblast feature for better cooking.
It is a Convection Microwave Oven with Tandoor and Curd making.
Best rated model.
Cons
A little bit higher priced.
---
Samsung 32L, Slim Fry, Convection Microwave Oven with Tandoor and Curd making(MC32A7035CT/TL, Stainless Steel
| | |
| --- | --- |
| Capacity | 32L |
| Grill | Yes |
| Turntable Feature | Yes |
| Auto Cooking | Yes |
| Ratings | 4.2/5 |
| Highlights | |
Samsung 32L, Slim Fry, Convection Microwave Oven with Tandoor and Curd making(MC32A7035CT/TL)
Samsung's Largest Convection Microwave Oven
This is the largest convection microwave oven, the Samsung MC32A7035CT/TL, boasting 32 liters of capacity. It features Slim Fry, Tandoor, and Curd-making functions. Its ceramic interior ensures safety, healthiness, and resistance to corrosion, with no lingering odors after cooking.
The Samsung 32L Slim Fry Convection Microwave Oven is equipped with an Ice Blue LED Display for user convenience. It also utilizes a Tact and Dial control system that is sensitive to touch and, of course, easy to clean.
If you don't like noise, you can turn off its beep which is very convenient. Other than that, it has so many features and presets for auto cooking. Its knob and membrane button allows you to control easily.
This microwave oven stands out as a top choice among convection ovens. It's versatile, suitable for baking, grilling, reheating, defrosting, and cooking. The Slim Fry Technology combines grilling with warm air circulation, resulting in food that's crispy inside and out with just a touch of oil.
Its Tandoor Technology allows you to create perfect and crispy Roti or Naan. You can make curd at any time whenever you want. The Wide Grill feature enhances grilling and browning effects compared to conventional grill heaters, and the Ceramic Enamel Cavity is easy to keep clean, odor-free and scratch-free.
Overall, its excellent performance, power, build, design, and multifunctional features make it a personal favorite for larger families.
Pros
Large in size for large family.
Best design.
Great build quality.
It has power defrost that allows you to cook frozen food even in large size.
Cons
---
Samsung 21L, Convection Microwave Oven with Triple Distribution System(CE73JD-B1/XTL
| | |
| --- | --- |
| Capacity | 21L |
| Grill | Yes |
| Turntable Feature | Yes |
| Auto Cooking | Yes |
| Ratings | 4.1/5 |
| Highlights | |
Samsung 21L, Convection Microwave Oven with Triple Distribution System
Samsung's most compact microwave oven
The Samsung 21L Convection Microwave Oven with Triple Distribution System (CE73JD-B1/XTL) in sleek black is not only an ideal Diwali gift but a versatile choice for any occasion. This smart kitchen appliance boasts a remarkable 10-year warranty, providing both durability and peace of mind. Its triple distribution system ensures even cooking, making it perfect for a wide range of dishes.
Being budget-friendly, it suits both home and cafe settings. With numerous controls and features, it allows you to prepare nearly any recipe from the Indian kitchen. This microwave oven offers microwave, grill, and convection features, and with options like grill+microwave and microwave+convection, it caters to a variety of cooking needs.
Whether you need a compact solution for your home or café, this microwave oven is the perfect choice.
Pros
Latest model.
Ceramic enamel interior.
Sophisticated design.
Good rated oven.
Latest model.
Cons
---
| | | | | |
| --- | --- | --- | --- | --- |
| | Samsung (MC28A5145VR/TL) Oven | Samsung Grill Microwave Oven (MG23A3515AK/TL) | Samsung CE73JD-B1/XTL Microwave Oven | Samsung Slim Fry, Convection Microwave Oven with Tandoor and Curd making(MC32A7035CT/T |
| Size | 28 L | 23 L | 21 L | 32 L |
| Wattage | 1400 W | 800 W | 800 W | 900 W |
| Model Year | 2023 | 2023 | 2023 | 2023 |
| Heating Method | Convection | Convection | Grill, Microwave, Convection | Convection |
| Suitable For | Joint Families | 3 to 4 members | Bachelors | Large Families |
Samsung Microwave Oven Comparison chart!
---
FAQ
What is rotisserie meaning?
Rotisserie refers to a method of cooking where food, typically meat, is skewered and rotated over an open flame or on a spit in an oven to ensure even cooking and a crispy outer layer.
Which ingredients are suitable for cooking in the microwave?
Major ingredients suitable for cooking in the microwave include vegetables (e.g., broccoli, carrots, and potatoes), rice, oatmeal, reheatable meals, and beverages (e.g., water for tea or coffee). However, it's important to note that certain items like aluminum foil, metals, or sealed containers should never be placed in the microwave, as they can cause fires or damage the appliance.
What is Turntable in Microwave Oven?
A turntable in a microwave oven is a rotating tray that ensures even cooking by moving the food, preventing hot spots.
---
Final Words
This article features the top five Samsung microwave ovens that excel in each capacity and size category. Whether you have a small family, are a couple, or a bachelor, you can find a suitable cooking option.
Whether you reside in an urban or rural area, these microwaves offer numerous auto-cooking recipes that simplify the cooking process, making it beginner-friendly. They do more than just reheating; you can precisely grill, bake, cook, and perform various culinary tasks.