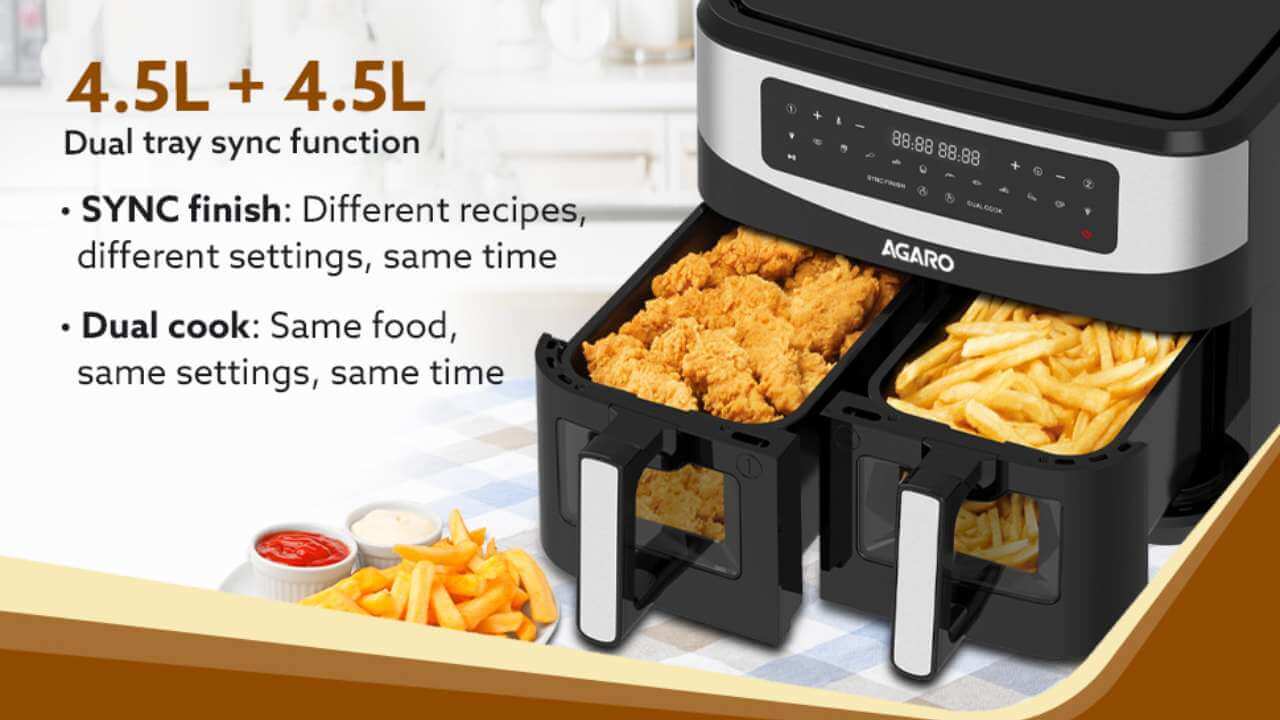 AGARO has launched the new AGARO Imperial Dual Basket Digital Air Fryer in India as part of its dual basket series. The air fryer allows for dual-sided cooking simultaneously and comes equipped with features such as a Dual Display control and a powerful 2400W heating element. Let's delve into the details below.
AGARO Imperial Dual Basket Digital: Specs and Features
The AGARO Imperial Dual Basket Digital air fryer boasts a 4.5-liter capacity and incorporates dual basket functionality, complemented by dual display control. It houses a 2400W heating element that facilitates heating within both baskets. With a user-friendly touch control interface, the air fryer provides access to 10 preset menus.
The AGARO Imperial Dual Basket Digital Air Fryer offers various presets suitable for cooking items like French fries, drumsticks, steak, cake, shrimp, fish, pizza, vegetables, and even for dehydrating. Additionally, it provides the option to preheat the air fryer. Furthermore, the appliance accommodates four types of cooking methods: baking, roasting, toasting, and dehydrating.
This launch follows closely after the recent introduction of the AGARO Regal Plus Air Fryer. The Regal Plus model features a spacious 23-liter capacity, a 1800W heating element, 16 presets, a temperature range of 50-220 degrees Celsius, an insulated chamber, and an array of other features. It is priced at Rs 10,449.
Price and Availability
The AGARO Imperial Dual Basket Digital Air Fryer is competitively priced at Rs 9,309 and will be conveniently available for purchase through Amazon and the official AGARO website, starting from August 2023. The product will be exclusively offered in a sleek black color variant.