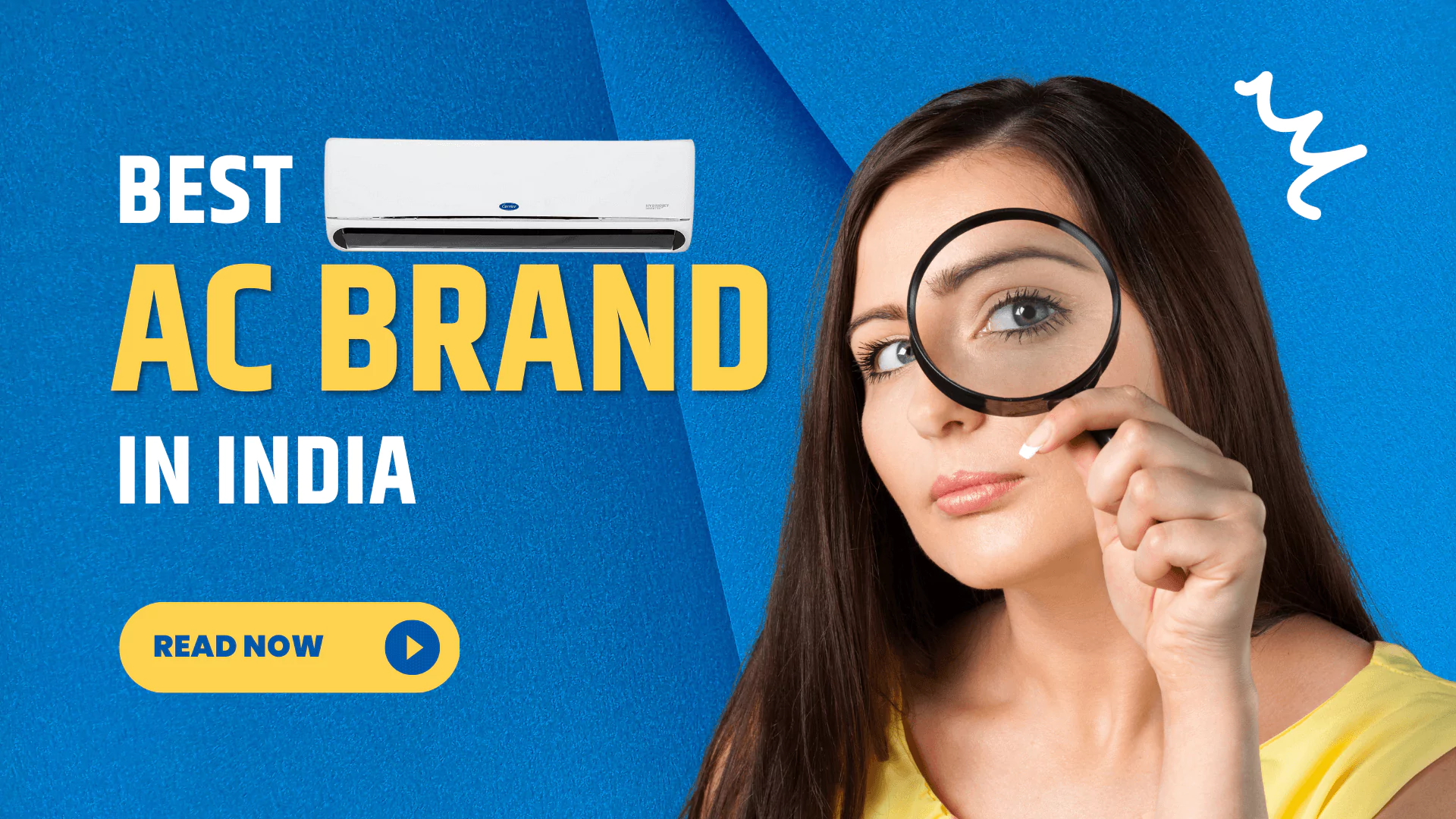 Here are the best AC brands in India from top brands that are perfect for homes, offices, shops, etc., and consume less energy by offering better cooling with low maintenance.
In India, summers are very hot and sometimes even humid, so most homes and businesses need air conditioners. Now they are not a luxury. In the market, various brands are available with good features and offerings; choosing the right one that fits your needs and budget can be mind-boggling.
However, certain brands stand out in performance, durability, energy efficiency, and customer satisfaction. In this guide, our experts will investigate the Top 10 air conditioner brands in India that provide the ideal balance of affordability and performance, assisting you in making an informed decision when purchasing an air conditioner.
---
How do we consider the best ac brand?
Several essential factors must be considered when purchasing India's top ten ac brands. Some of these factors include:
Performance
Star rating or efficiency
Design and durability
After-sales service
Budget
Performance: It's a crucial factor. The best air conditioner brands should have high and faster cooling capacities and good airflow distribution for a comfortable and consistent cooling experience.
Energy Efficiency: ACs are among a home's most energy-consuming and heavy appliances. As a result, it is critical to select an AC brand that is energy efficient and has a high star rating. It will help you save money on your electricity bill.
Durability: A high-quality AC should have a robust, durable build that can withstand regular usage and harsh weather conditions. The best AC brands often use premium quality components and materials that offer durability and longevity.
After-sales service: It is required for AC maintenance and repair services. The best air conditioner brands provide excellent after-sales service, including promptly and efficiently resolving customer complaints and issues.
Budget: It is the first thing you think about. Choose an air conditioner that is within your price range. For most customers, the cost of the air conditioner is critical.
Must read: a complete buying guide for Air Conditioners.
---
Best Air Conditioner Brand in India in 2023!
| | | | |
| --- | --- | --- | --- |
| Sr no | Top AC Brands | TMT Rating | Country of Origin |
| 1 | LG | 8.8 | South Korea |
| 2 | Voltas | 9 | India |
| 3 | Blue Star | 8.8 | India |
| 4 | Llyod | 8.7 | India |
| 5 | Daikin | 8.8 | Japan |
| 6 | Havells | 8.7 | India |
| 7 | Carrier | 8.5 | USA |
| 8 | Panasonic | 8.7 | Japan |
| 9 | Samsung | 7 | South Korea |
| 10 | Hitachi | 7.5 | Japan |
Best Air Conditioner Brand in India in 2023
Our online and offline testing experts give these ratings out of ten. The overall experience, performance, features, and, most importantly, after-sales service all play a role.
---
LG
LG is a well-known brand in India for air conditioners and other appliances, with a reputation for quality, dependability, and new ideas. LG has a wide range of air conditioners that are made to fit the needs of modern homes, with a focus on saving energy and being easy to use. LG air conditioners have advanced technologies like inverter compressors, multi-stage filtration systems, energy efficiency, and smart connectivity, which lets users control and monitor their air conditioners from a distance. LG has become a trusted brand for people worldwide who want the best home comfort and convenience because it strives for excellence.
We have two Best ACs from LG!
---
Voltas
TATA produces Voltas, a well-known brand in the air conditioning industry and one of the best AC brands. Voltas is famous for building dependable and efficient products. Voltas offers a diverse range of air conditioners to meet the needs of various customers. Voltas provides energy-saving air conditioning, best-cooling air conditioning, and smart connectivity, making them a popular choice for homes and businesses. Most importantly, Voltas has satisfied customers, and Voltas has established itself as a leading player in the AC market and continues to deliver high-quality products that meet its customers' evolving needs.
We have these two top-rated ACs from Voltas!
---
Lloyd
Lloyd is another well-known Indian brand. Lloyd ACs have established a reputation as one of the best AC brands. Lloyd offers a wide range of ACs that appeal to its specific customers, focusing on quality and innovation. The brand's air conditioners include advanced features such as inverter technology and air purification systems that allow users to control and monitor their air conditioners remotely. Lloyd's air conditioners are also energy efficient, saving customers money on utility bills while remaining comfortable. The brand's dedication to customer satisfaction is reflected in its extensive service network, ensuring that customers receive prompt and efficient service whenever required.
Lloyd has some best ACs that you will like
---
Daikin
The Daikin AC brand is a global leader with its high-quality air conditioners. It provides feature-rich ACs that are reliable. Their dedication to innovation and sustainability distinguishes them from other AC brands. Daikin's ACs are designed to meet the diverse needs of customers, with advanced features such as inverter technology, air purification systems, and smart connectivity. They have some of the best air conditioners for specific needs, such as the Daikin 0.8-ton 3-star AC, which is ideal for small rooms and requires little maintenance.
Daikin offers some great pieces of Air Conditioners
---
Blue Star
Blue Star is another well-known brand in India because its products are of good quality and don't cost too much. They sell split air conditioners, window air conditioners, portable air conditioners, and central air conditioning systems for homes and businesses.
Blue Star was added to the list of best air conditioners because it has an extensive network of authorized dealers and service centers across India, ensuring easy access to its products and services. To ensure their customers' satisfaction, they also provide excellent after-sales support, including regular maintenance and repair services.
Top Blue Star Ac in India
---
Havells
When it comes to Havells air conditioning, you have many options. It offers a diverse range of air conditioners with high quality, design, and durability. It is India's most well-known AC brand, offering a variety of ACs with advanced features like inverter technology and smart connectivity. Havells has established itself as a reliable and trustworthy brand in the industry, making it one of the best AC brands in India. We have previously discussed its most recent best AC that will keep your home cool.
---
Panasonic
Panasonic is once again a top appliance manufacturer. Its air conditioners are top-rated and high-quality, with unique features and performance. They feature a dual inverter, wifi connectivity, and lightning-fast cooling. The Panasonic 1.5-tonne wifi twin cool inverter split AC is a 5-star energy-efficient ac.
Panasonic comes with some rich features along with efficiency
---
Hitachi
In terms of home appliances, this is also a global behemoth. Among other things, it sells high-quality air conditioners and appliances. Hitachi AC has different categories for different needs and performs admirably. The best-split AC in 1.5 tonnes with 5-star efficiency can be seen here.
---
Carrier
Carrier is India's leading air conditioning brand, known for its credible and energy-efficient products. Carrier, focusing on innovation, offers a wide range of ACs with smart connectivity for residential and commercial use. Their dedication to quality has earned them a reputation as one of India's best AC brands.
---
Samsung
In the air conditioning industry, Samsung is a well-known brand. Samsung's air conditioners are the best in terms of design and features. It has wind-free AC, which increases the value of your air conditioner. It manufactures air conditioning for homes and businesses in India. Samsung has established itself as one of the best AC brands in the country due to its emphasis on quality.
---
FAQ – Best AC Brand in India 2023
Which is the 1 AC brand in India?
LG is the no 1 AC brand in Inddia. It has a variety of ACs that offers quality and performance.
Which AC is best in India?
Voltas is the best commercial AC, and LG, Panasonic, and Blue Star are India's best residential AC brands.
What is the most reliable AC brand?
LG, Voltas, Panasonic, Blue Star, and Llyod are the top 5 ac brands most reliable.
Which AC brand is most reliable?
AC manufacturers from Japan (Hitachi, Daikin), the United States (Carrier), and India (Voltas, Blue Star) are highly dependable when it comes to producing high-quality air conditioners for homes and offices. And the Voltas Blue Star is the most reliable and offers better after-sales service.
Conclusion:
We have added the top 10 AC brands that are most popular in performance and customer preferences. You can buy one of them that you like most, and that fits your budget. If you want to buy the Best AC in India, you LG or Blue Star because they are both energy efficient and durable at the same time.
We are sorry that this post was not useful for you!
Let us improve this post!
Tell us how we can improve this post?