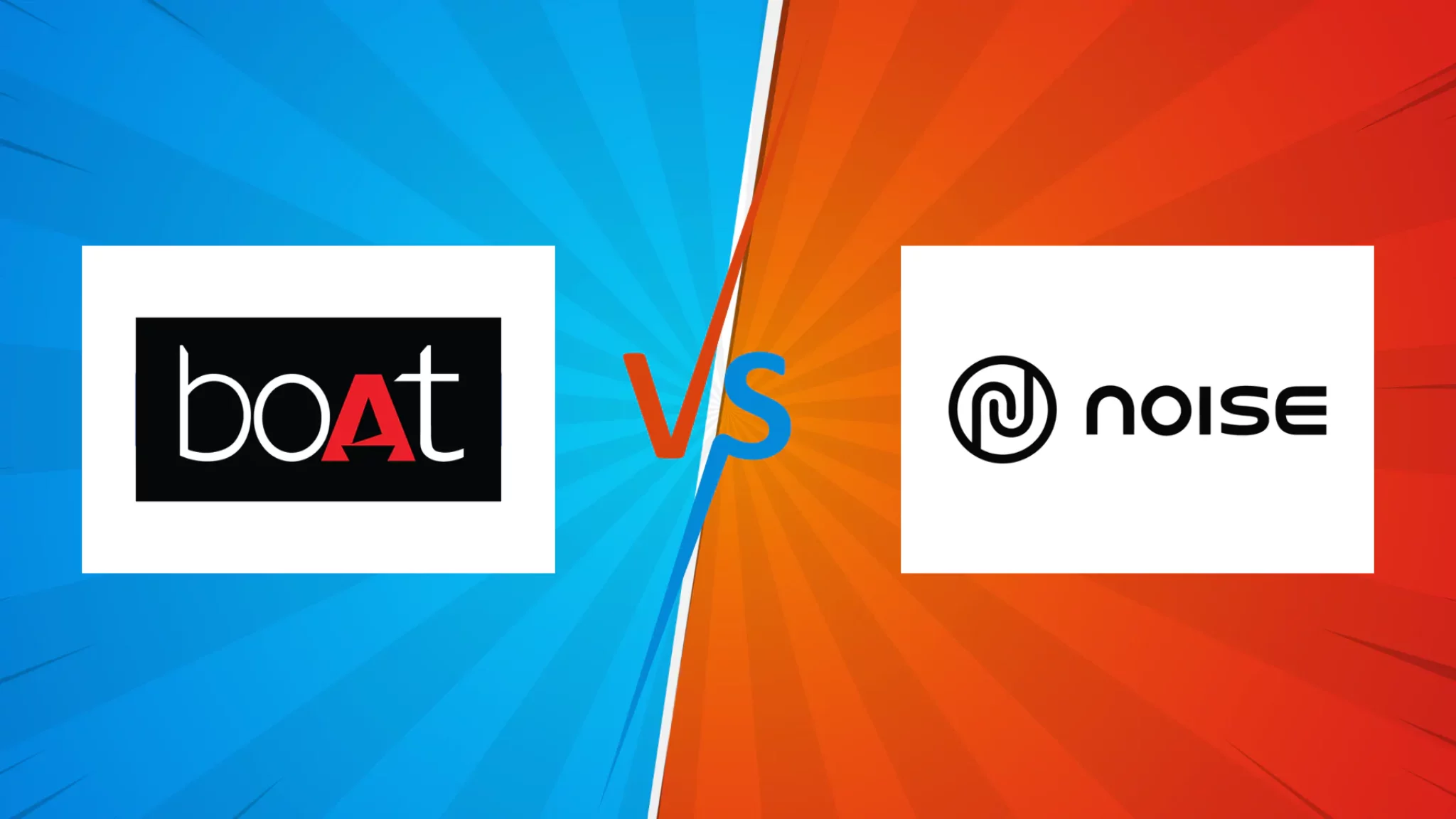 Both Noise and boAt are Indian consumer electronics companies. Noise is known for its unique products, whereas boAt is known for its stylish and cost-effective products. We will also learn about the profiles of both brands and which one is superior.
The Boat has a significant market share compared to its competitors. It maintained its lead, but its market share fell to 23.9% from 27.3%. However, it remains the number one brand in terms of market share. This Indian brand was founded in 2014 by two Indian entrepreneurs, Sameer Mehta, and Aman Gupta, and has since expanded through numerous explorations.
While Noise began selling smartphone cases in 2011, it was not until 2014 that they discovered the GoNoise brand in wearables, founded by two brothers, Amit, and Gaurav Khatri. The Noise, also known as GoNoise, is India's leading smartwatch and wearable brand that manufactures low-cost wearable and audio products. It is an Indian brand that sells among the top five wireless earphones in the country.
Let's discuss each brand boAt and Noise!
About Boat
boAt CMO: Aman Gupta.
The Boat is the fastest-growing audio brand in India among electronic consumer product brands. It is a leading brand in earwear products, such as wired and wireless audio products such as TWS, earphones, and headphones for various niches such as gaming and music. boAt has many great products that are not only the best in terms of style or appearance, but also offer an effective configuration that attracts the audience.
The boAt audio sells 8,000 to 10,000 units daily, which is an interesting fact, though it may vary. Because it is so large, few businesses have ever come close to it.
The boAt creates headphones, earphones, airdopes, speakers, travel chargers, premium cables, and so on. Boat understood the Indian audience a lot better, which is why no one can deny that in just five years, it became the fastest-growing brand in India in overall sales of these products.
Boat Profile:
Brand name boAt
The legal and parent company Imagine Marketing Services Pvt. Ltd.
Founder Sameer Ashok Mehta and Aman Gupta.
Origin of Brand India (they manufacture in China and India)
Foundation year 2014
Products electronic consumer items like wearable, audio & speakers, and so on
Headquarters Delhi, India
Business Model B2C, D2C
Investors Qualcomm Ventures, Innoven capital, Warburg Pincus, Fireside Ventures, Navi Technologies
Is the Boat a Good brand?
In terms of market share, product, and overall service, the Indian boat brand is good. Regarding its products and offerings, not every single product is the best because some are flops. Still, most of them have become immense successes.
If you are thinking that why boAt is successful and why is it so popular?
Boat earned the trust of the Indian audience by providing products and services that they required daily. If they require a conventional product, they develop it; if the public requires a stylish and reasonably priced product, they provide it. And, in all of this, boAt provides very good service to users in terms of post-purchase services such as warranty and refund.
In short, Boat is the best brand; you can buy their products without much thought if they are within your budget and meet your needs.
---
About Noise
Noise Founders: Amit Khatri & Gaurav Khatri
The noise was founded in 2014 by Amit Khatri & Gaurav Khatri. Noise, India's electronic consumer brand, makes personal accessories for the young generation, like smartwatches, wireless earphones, TWS, headphones, and speakers. Let's discuss the brand.
Noise is India's top 5 wearable brand. Noise is the second-largest wearable brand in market share, trailing only boAt. The Boat is down in share, but it is still leading, and the second brand, Noise, stood at 11.2% in 4Q22, with 2.8 million shipments, and registered 39.6% growth. It strengthened its smartwatch leadership with a 27.2% share, growing 152.6% annually in 2022, according to IDC (International Data Corporation).
Boat Profile:
Brand name Noise
The legal and parent company Nexxbase Marketing Pvt Ltd.
Founder Amit Khatri & Gourav Khatri
Origin Country India
The foundation year 2018
Products Wearable, Wireless audio, and Speakers
Headquarters Gurugram, Haryana, India
Business Model B2B, B2C
Is the Noise a Good brand?
Of course, it's another good Indian brand. It has a lot of good products, but not all of them. As previously stated, it is India's second most popular wearable product. As appealing designs, noise clocked millions of shipments in 2022. Online promotions drew hordes of savvy young Indian shoppers to smartwatches. Noise is a profitable company, which is an intriguing fact.
If you are thinking that why Noise is successful and why is it so popular?
Because Noise understands its audience and creates enough stylish and functional wearable products. Noise has some of the best smartwatches and wireless earphones with better design, accuracy, and other features that no one else offers at a very reasonable price. Price range is a big factor in India, and Noise understands that factor, which is why it successfully sells wearable products in India.
We are sorry that this post was not useful for you!
Let us improve this post!
Tell us how we can improve this post?