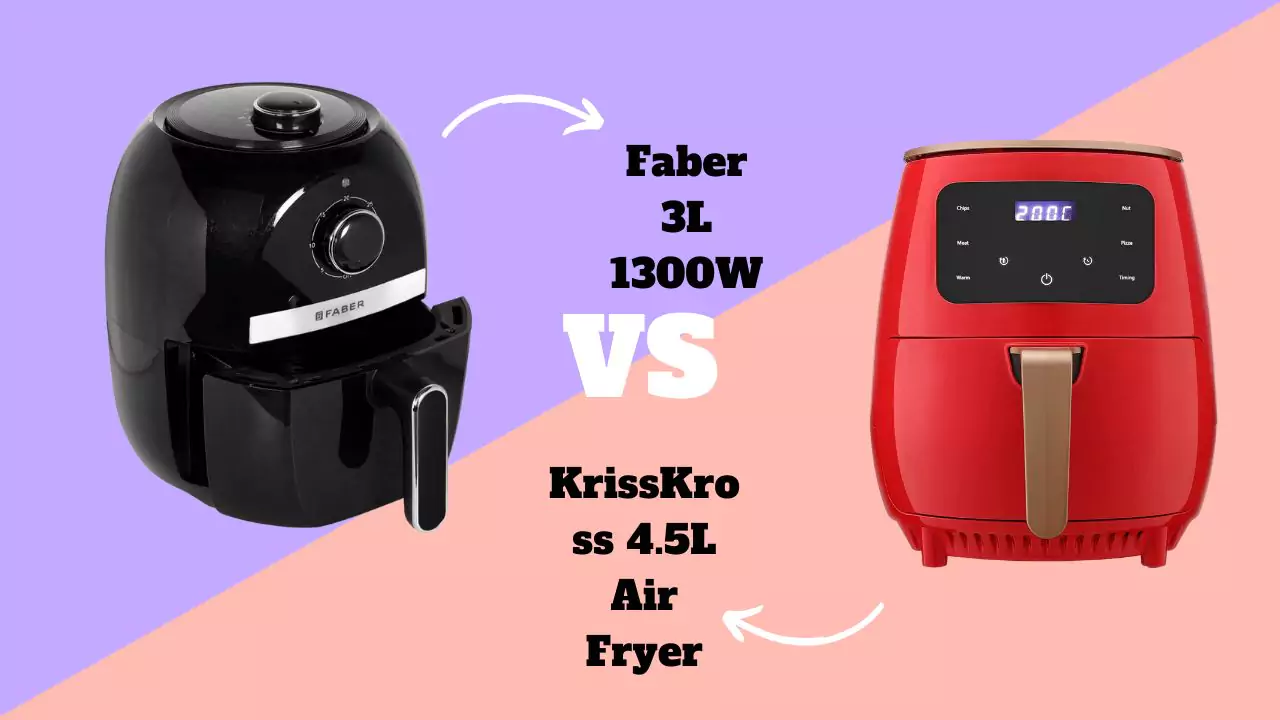 Faber and KrissKross are both newcomers in the air fryer appliance market, each introducing a new product. In this comparison, we will assess their two new air fryer models: the Faber 3L and the KrissKross Air Fryer. This analysis aims to highlight the differences between these models, helping you decide which one provides the best value for your money.
---
Quick Ans
In terms of capacity, the KrissKross air fryer provides a greater cooking capacity and a more powerful heating element. Yes, Faber also offers a 4.5L 1500W Air Fryer with a display and presets, but it is relatively expensive.

When it comes to brand reputation, Faber holds a relatively stronger position than KrissKross in the realm of kitchen appliances.

In the realm of control mechanisms, the KrissKross model features a touch display for control. On the other hand, the Faber air fryer employs a knob control system.

In conclusion, KrissKross offers air fryers that seem to deliver higher value for your money, considering their respective price points.
---
Compare Top Specifications of Faber 3L 1300W Vs KrissKross 4.5L Air Fryer
| Specs & Features | Faber 3L 1300W | KrissKross 4.5L |
| --- | --- | --- |
| Capacity | 3 L | 4.5 L |
| Display Type | Manual | Display, Touch |
| Power | ‎1300 Watts | ‎1400 Watts |
| Extra Accessories | No | No |
| OTG+Air Fryer | No | No |
| Pre-set | NO | Yes |
| Timer | 1-60 min | 1-60 min |
| Temperature | 80-200°C | 80-200°C |
| Dimensions | 25D x 32W x 32H cm | 28D x 28W x 30H cm |
| Weight | 3 kg | 3.48 kg |
| Best for | Small Family | Small Family |
| Price | ₹3,499 | ₹4,460 |
| Warranty | 2 Year | 1 Year |
Faber 3L 1300W Vs KrissKross 4.5L Air Fryer
---
Faber 3L 1300W Vs KrissKross 4.5L Air Fryer Comparison



Overview
Description
Brand/Store
Availability
User Rating
Review
General
Model Number
Release Date
Available in India
Price in India
Ideal For
Usage
In The Box
Panel Display
Type of Oven
Material
Design
Dimensions
Color
Transparent Window
Auto Cook Menu
Cavity
Weight
Tempered Glass Window
Warranty
Warranty
Warranty Type
Covered in Warranty
Not Covered in Warranty
Storage
Capacity (Litre)
Power Features
Power Consumption
---
Comparison Between Prices of Faber 3L 1300W Vs KrissKross 4.5L Air Fryer
Faber 3L 1300W Air Fryer Price
---
Also, you can check another comparison between these air fryers and other air fryers checks here