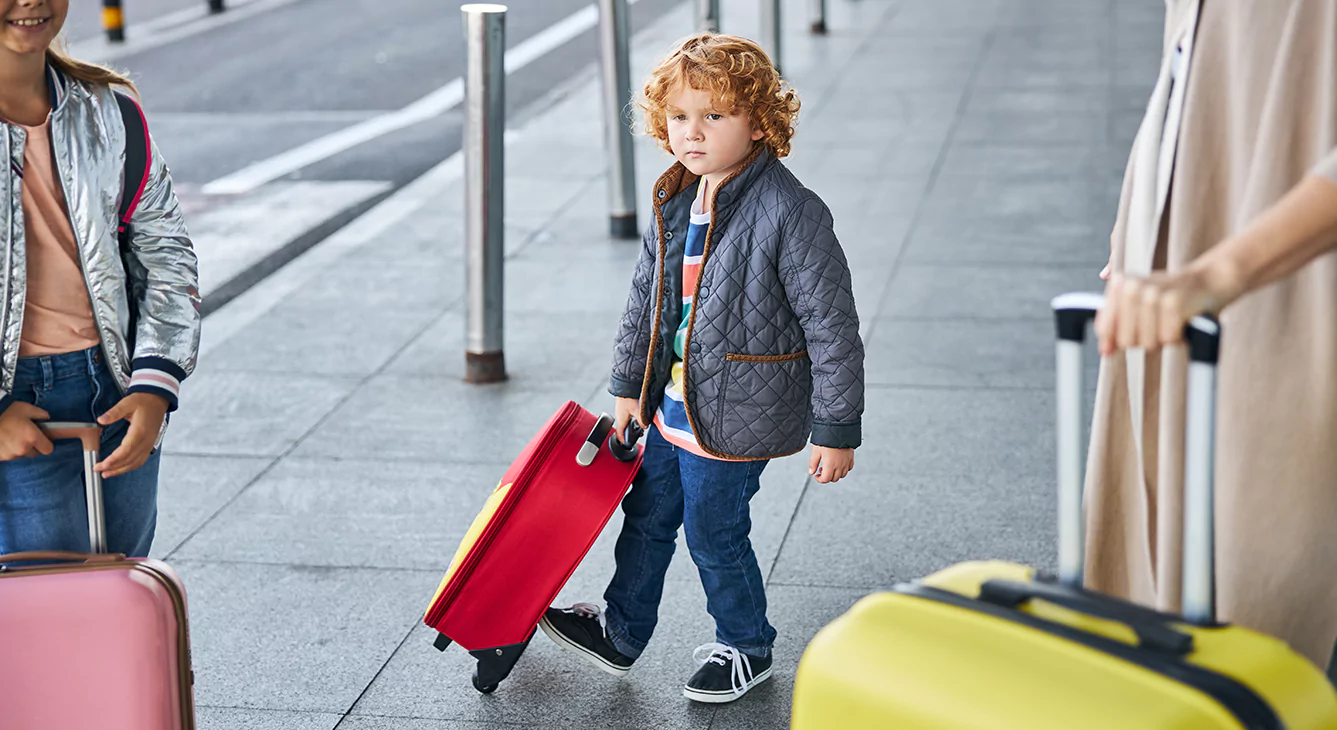 Because it is a children's trolley suitcase, choosing a trolley or suitcase for kids that is the appropriate size for your children and can withstand use and abuse is crucial. Even better, bags with their favourite patterns or colours can make them more eager to carry their own bags. The three main factors to consider when purchasing a trolley bag for your children are size, design, and durability.
Children enjoy having a trolley or small suitcase while the entire family is on vacation, so doing it this way will allow you to take more luggage per person. When purchasing a trolley bag, make sure it is both sturdy and lightweight so that it can be carried easily and won't be damaged even if it falls a few times. Here is a list of some of the top products you might want.
The most important thing is to find genuine feedback and reviews online. At the take me technically, we analyse all types of luggage from well-known brands, evaluating them for performance and durability. Let's find the best trolley bags for kids to carry luggage.
Best Trolley Bags for Kids
Trolley Bags for Kids in India 2023
Children's Suitcase
The question of whether a hard-sided or soft-sided trolley is better for kids when purchasing luggage or a trolley bag comes up frequently. So, this is the resolution. A hard-sided bag is ideal for children because it has a more interactive design and is shockproof, so your belongings won't be damaged even if it falls. However, you can fit more items in a soft-sided bag, so the choice is yours.
Our top picks in best luggage for children and kids:
D Paradise Kid's Hard Case Polycarbonate
HIGHLIGHTS
Best for a boy and a girl.
It is a Hard Case Polycarbonate Cartoon Print trolley bag.
It is Water resistant and light in weight trolley bag for both girls and boys.
Zippered mesh compartment.
Number lock.
Four wheels for easy portability.
Reason to buy
Due to its unisex design and lightweight construction, this D Paradise children's trolley bag is appropriate for children of both genders. This children's trolley bag is constructed from a long-lasting material called polycarbonate. This 20-inch cartoon-print suitcase is ideal for taking children on vacation. You can keep the luggage separated while maintaining organisation with elastic closers, roomy compartments, and zippered mesh. It has the best height telescope handle for pulling it and a number lock for security.
GOCART WITH G LOGO Kid's ABS Hard Shell
HIGHLIGHTS
This is suitable for kids up to 10 years of kids.
Big size trolley bag for kids, it can hold 18kg of weight.
ABS Material Telescopic Handel.
Lightweight trolley bag.
Reason to buy
The capacity, design, and features of this cart make it special. The lightweight ABS hard shell material used to create the Gocart G logo kids trolley bag is shockproof and keeps your belongings secure. When travelling or moving with all of your luggage, carry this. This trolley bag has a cartoon print that suits kids and younger kids. With its four wheels, you can move around in all directions.
American Tourister Skittle Nxt Polypropylene 50 cms Orange Kid's Luggage
HIGHLIGHTS
Children's trolley bag with 25L capacity.
High-quality polypropylene construction material.
Webbing handles that are simple to hold onto so that children can sit and hold on.
Your belongings will be secured by a 2-point fixed lock.
Large storage volume for the items and toys that kids love.
A parental leash that can be changed into a shoulder strap.
The manufacturer offers a three-year warranty on this trolley bag.
Reason to buy
This American Tourister Skittle bag is one of the best kids' suitcases and trolley bags for under 2000 rupees. This suitcase is ideal for toy storage and amusement for children while travelling. It is printed with intriguing animal characters, including a yellow bee, an orange tiger, and a white zebra, which is very adventurous for a child. Your child's clothes and toys can fit in the main compartment of this 25-litre trolley bag. It comes with a webbing strap that parents can use to pull while their children sit on it, and when the child gets tired, the parent can use the strap to carry it on their shoulder. Your kids can sit on it and roll it around like a toy. The rest of the bag is just as strong and simple as other trolley bags.
Note:
you may find this bag also best; 
Luvlap 2 in 1 Baby & Kids Hard Top Luggage
. This Suitcase Trolley Cum Ride-On with Wheels is, Multifunctional, Lightweight trolley bag that is Suitable for above 18 months child & Carries weight up to 18 kg.
Humty Dumty The Iron Man Polycarbonate
HIGHLIGHTS
This Polycarbonate hard-sided luggage is graphically printed that is best for kids.
30L capacity for more luggage.
Ultra lightweight trolley bag that weighs just 2kg.
Elastic Closure inside for keeping things intact and Water Resistant.
360-degree 8 wheels.
The Iron Man Kids Suitcase printed with Iron Man graphics will be best for kids (boys).
Reason to buy
The Iron Man Kids Suitcase is one of Humpty Dumpty's top kid's trolley bags. This is an eight-wheeled, 360-degree-rotating steel trolley with an ABS grip for simple handling. You don't need to worry about your kids when they go camping because it is convenient for them to push or pull the luggage.
This trolley bag, which has a 30L capacity, can accommodate all of your belongings and your child's. Although it is made specifically for boys (kids), it looks stylish and modern, and both girls and boys can use it. It doesn't have a number lock system; instead, it has only premium zippers that are ideal for use while travelling. This children's luggage has a 3-year warranty, making it one of the best trolley bags in India under Rs 3000.
JUNIOR JOE ABS Plastic Rounded
HIGHLIGHTS
The JUNIOR JOE suitcase is made of lightweight ABS plastic.
Rotating mute caster Mobility in any direction is made possible by 4 double-spinner wheels that roll smoothly.
Utilising the built-in 3-dial number lock.
Strong telescoping handle for easy movement.
This kid's spinner luggage bag is appropriate for work, business, camping, travel, shopping, vacations, or weekend getaways.
Reason to buy
One of the best trolley bags in India is this Junior Joe suitcase, made specifically for children. This kid's luggage bag is appropriate for work, business, camping, travel, shopping, vacations, or weekend getaways. It has extremely quiet, long-lasting double-spinner wheels that can pull it in any situation. It includes a password-number lock for security. This roomy round trolley bag has a professional appearance and is an interior organiser for your belongings and luggage.
LAFILLETTE Kid's Polycarbonate Exclusive Printed Pattern Smart Trolley Bag Cabin
HIGHLIGHTS
4 stable wheels system (360 degrees) for portability.
Water Resistant trolley bag.
This is for lightweight trolley bag for kids.
Reason to buy
LAFILLETTE is a premium brand of printed trolley bags for children. Its construction uses polycarbonate, a durable and strong material. Your belongings will be safe and secure when you transport toys or electronic items in this hard-sided trolley bag.
This 18 kg lightweight, voluminous compartment luggage for kids has a water-resistant extendable telescope handle. It is printed with a doll design ideal for girls (Papa ki Pari).
DPARANI Polycarbonate Cartoon Print Minion Suitcase Trolley Bag
HIGHLIGHTS
Minion Suitcase Trolley Bag with Cartoon Print for Boys and Girls.
The case's beauty is preserved after travelling thanks to the scratch-resistant design.
The toddler suitcase is perfectly balanced and was designed with children in mind.
The ideal present for a birthday or a special occasion like Halloween, Christmas, Thanksgiving, or the New Year.
The coating on the ABS trolley case is strong, lightweight, soft, and long-lasting.
Reason to buy
DPARANI presents a stylish and higher aesthetic with this simple yet stylish polycarbonate bag. This roomy, stylish, hard-sided trolley bag will highlight your semi-formal or casual outfit. It's the perfect finishing touch. Boys and girls can both use this stylish, inexpensive trolley bag.
These four big wheels can accommodate all of your children's necessities as well as their toys. This lightweight, cosy, and casually stylish trolley are easy to move around. Extend the telescope to accommodate a child's height. This practical trolley will make your kids' vacation very comfortable and enjoyable.
Note:
If you are looking for a soft-sided kids' suitcase, buy this 
Da Tasche Leatherite
 18″ Beige soft-sided Children's Luggage. This is a spacious and lightweight trolley bag.
QT Sizzling Polyester Soft 8-inch luggage
HIGHLIGHTS
Most affordable trolley-style luggage bag for kids.
Polyester is a lightweight building material.
Best for vacation.
Your child can use it as a backpack too.
Reason to buy
You can purchase this trolley bag if you're looking for a cheap one. With the removal of the telescoping handle, this trolley can be used as a backpack thanks to the high-quality bag in backpack style.
With its roomy and soft sides, the backpack trolley lets you transport more luggage. Here is another option of FunBlast Hard Canvas Luggage Trolley Bags for Kids.
FAQ – Best trolley bags for kids to carry luggage
Which type of trolley bag is best?
The key to the suitcase and trolley bags is convenient. To buy the best and most convenient trolley bag, consider American Tourister, Safari, and Sky bags. Buy these trolley bags easily because they are lightweight, inexpensive, and stylish. 
What are the 3 sizes of trolley bags?
Trolley bags generally come in three sizes: cabin, medium/check-in, and large/check-in. The sizes of these items can range from Large (70 cm and up), medium (60 to 69 cm), and Small (up to 59 cm), and they can vary as different brands.
What is the best suitcase for kids?
JUNIOR JOE ABS Plastic Rounded Cabin bag is an overall good option for kids.
Which is the lightest trolley bag?
If you want the lightest carry-on bag possible, go with a soft-sided small or cabin trolley bag made of polyester or nylon.
What is a trolley bag?
Trolley bags are compact luggage containers with two or four wheels, making them simple to transport and pull from one location to another. Leather, cotton, and canvas are the most common materials used to make trolley bags, which are lightweight and convenient. They are convenient and have a handle, lock system, and sophisticated design.
We are sorry that this post was not useful for you!
Let us improve this post!
Tell us how we can improve this post?